Demand for SUVs and pickups are hitting a high pitch, but they are gas-guzzling dinos that refuse to die out. Recently, retrofitting compact to large SUVs with hybrid engines that still have the gas component doing the heavy lifting. The consequence is that carbon emissions are still plentiful and a future niche that electric sport utility vehicles can fall into.
Answering the call to green SUVs and stopping the rampage of ICE SUVs on the environment. Look no more because Tesla's green fueled electric truck is coming soon. Despite delays and other mitigating circumstances which is no hindrance to the unveiling in 2020. Yes, that is right. Much is riding on the success of Elon Musk and his green SUV.
One of the obstacles that are hindering the success of Tesla's e-Pickup is that America loves it's gas hungry behemoths. An electric pickup is something altogether and has big shoes to fill in. Though Tesla's electric cars have spurred more car manufacturers to take a deep dive in the electric vehicle niche.
Now the facts that surround the impending arrival of his e-Truck. What could we expect and will it be something new that will turn heads? Let's find out if Tesla's green energy electric pickup has what it takes to outsell dinosaur SUVs.
1. Electric pickups will be like something out of the future.
Futurism and cyber-punk combined into a head-turning design that will take eyes away from the competition. Say goodbye to the streamlined and blocky sport utility vehicles of today. Lines will be flowing and will look like a refuge from popular movies like Blade runner. Most e-Pickups will have more space for seating and storage.
2. It will cost a bit but it will be worth every cent spent on it.
In one word, this truck will cost a bit more than any internal combustion engine (ICE) SUV but will cost less in the long run. Running on electricity is cheaper compared to filling up a convention SUV or pickup. There is a hint that it would cost about $49,000, which is a bit steep for a truck. If looked at from another angle, it will be cheaper in the long run. It won't come cheap with the cutting-edge tech installed in it.
3. What is the range of the Tesla e-Pickup?
The range is crucial, and all Tesla EVs are gifted with excellent range and the one to beat. If the Model 3 has an average of 220 miles, another version has 310 miles on a full charge. Its new version Roadster has an estimated range of 620 miles which is double the Model 3's. Other options like the Model S has 393 miles (NEDC) for the higher trim versions. Initial range estimates will place the e-Pickups range at 350 miles that aren't far from Rivian's offering.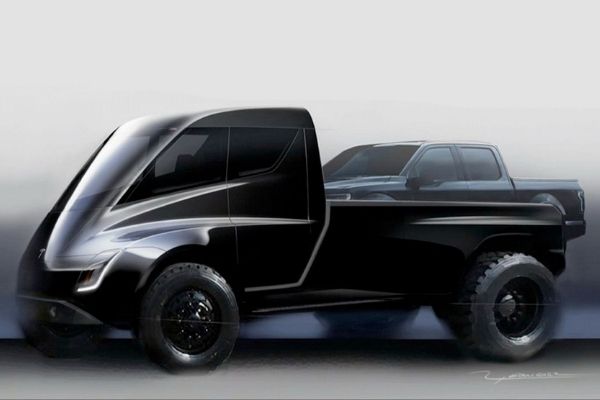 Impending invasion of these e-Pickups led by Tesla's visionary will change everything. As Tesla's Electric pickup fueled by green energy with good range and drive it like a Taycan will be selling points to beat. No more slow SUVs but a new kind to replace these ageing relics.

See Now: OnePlus 6: How Different Will It Be From OnePlus 5?

© 2021 Auto World News, All rights reserved. Do not reproduce without permission.