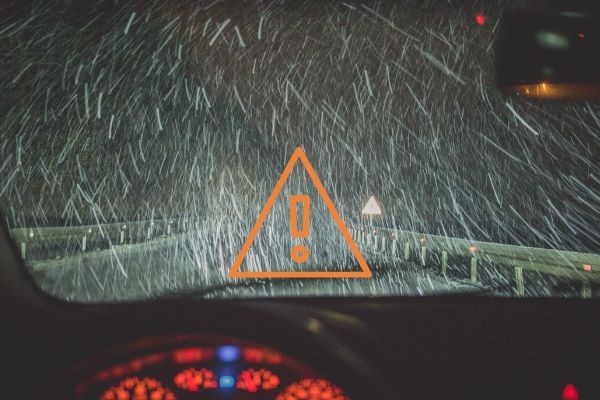 Do you know that driving in winter nights are worse than daytime driving in the snow? Safety is a premium when it is wintertime with these winter driving tips. You have got bad visibility, squalls, icy roads, black ice on the road, and everything else that will be a challenge for the most experienced driver!

Nights in winter are shorter and longer than days. What happens next is the sun goes out, and the night comes in! For some, it is longer commutes in the dark than in the day. Will this be a concern? It should be and how to drive in winter nights is a vital skill too. In some instances, it should be done well. Dangers in the day time are manageable. Visibility at night degrades all our senses because it is a dangerous time.

If hitting a car is possible in the daytime, how about a pileup at night with the worst visibility. Here are some pointers that should be second nature to avoid problems at night. All of them are simple and practical to follow. You do not even need elbow grease to do them!

A. Clean all the car windows every time you go out at night.

Chilly conditions will have more frost and ice on the windscreen that lessens crucial visibility. Driving on road will have condensation forming icy slush to kick up dirt into the windscreen. Clean the windscreen with de-icers to lessen the buildup of frost and snow. Dirty windshields will cause low visibility on the road, and maybe a crash. Keep a clean windscreen, or the law can pull you over! Blocked windscreen will prevent insurance payments if proven.

B. Better check your eyes and have spectacles if needed.

Good eyesight is needed; 20/20 vision is important when driving at night. Go to the optometrist and see whether eyeglasses are needed soon. Do not wait for a bad accident to happen. Driving at night will need a good set of peepers!

C. Bring all night driving essentials you might need.

Always be safe and prepared each time you head out, driving in the dark. Have the survival and safety kit ready in the back. Have the jack and all the car equipment ready and hand. Make sure the mobile is fully charged! Get a hand-cranked charger and hand-cranked beam for you.

D. Check all your headlights for night driving.

Lights are needed to see where you are going. Driving without headlamps is dangerous, so both front and taillight must work! Other cars can see you, and you could see them in the dark. Avoid blinding other drivers by dipping the headlamp a bit. Never look at an approaching light, just a manageable angle. This avoids squinting when driving.

Be safe and smart with all these how to drive in winter night driving tips to get home. These winter driving tips are important to know, they'll keep trouble away. Just remember to be on guard when driving in winter nights. Be alert at all times, or be sorry later.

See Now: OnePlus 6: How Different Will It Be From OnePlus 5?

© 2021 Auto World News, All rights reserved. Do not reproduce without permission.