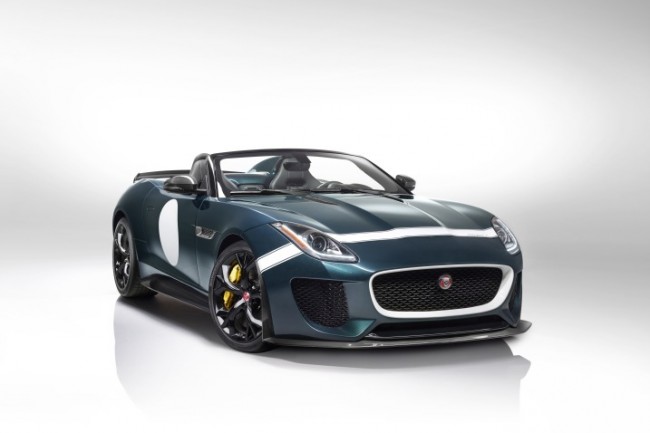 Jaguar has announced that its 575-horsepower Jaguar F-Type Project 7 will be on sale by mid-2015.
The automaker is already advertising the F-Type as the fastest production Jaguar vehicle ever produced.
A production version of the new Project 7 vehicle will debut at the 2014 Goodwood Festival of Speed.
Jaguar confirmed that the vehicle is equipped with Jaguar's 5.0-liter supercharged V8 engine and eight-speed Quickshift transmission.
It is capable of going from zero-60 mph in just 3.8 seconds, according to a company release.
The vehicle's foldable cloth top can be removed and stowed.
Other features include carbon-ceramic brakes and custom carbon-fiber aerodynamic components, according to the automaker.
The vehicle will be available in five metallic colors: British Racing Green, Ultimate Black, Ultra Blue, Caldera Red, and Glacier White.
Twenty-inch Storm alloy wheels in gloss black are also available as part of the package.
The Jaguar F-Type is brand new for 2014.
The vehicle is expected to compete with vehicles like the Chevrolet Corvette Convertible and Porsche Boxster.
Pricing has not been announced yet by the automaker.
Just 250 units of the two-seat vehicle will be hand-built by Jaguar Land Rover's Special Operations team. It will be the first Jaguar performance vehicle produced by the team, according to the release.
Click "Start" to begin the slideshow.
See Now: OnePlus 6: How Different Will It Be From OnePlus 5?
© 2021 Auto World News, All rights reserved. Do not reproduce without permission.