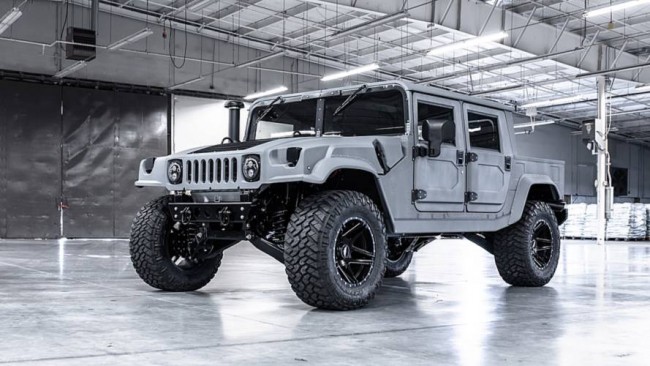 https://www.motor1.com/news/377325/gm-electric-hummer-revival-report/
(Photo : motor.com)

Unless you've been living under a rock or vacationing on your favorite planet outside of Earth, you may have noticed that the automotive industry is moving towards electrified vehicles. Gas-guzzlers are going out of style and in their place are zero-emissions, battery-powered rides.

And one of these offerings could be a Hummer.

Yes, you read that right: the go-anywhere truck-cum-SUV that was inspired by Operation Desert Storm just might make a comeback as an electric rig.

This is according to reports by Bloomberg and Reuters who both revealed plans by General Motors to electrify America's favorite tough guy ride.

While the reports did not exactly confirm the return of the Hummer nameplate, what they did specify was that General Motors will be coming up with a line of electric pickup trucks and SUVs beginning in 2021.

This is part of a $7.7 billion investment that will see GM coming up with a new line of pickups and SUVs under a different brand. It will begin with a basic electric pickup, to be followed by an SUV. Both of these should see daylight around 2021.

The flowing year the said brand is set to come up with more premium variants of said offerings. These are meant to attract more buyers.

By the same token, GM itself will also come up with its own versions of the zero-emissions vehicles. These would likely be available beginning in 2023.

So how did Hummer get into the picture, you ask?

Admittedly, it's a bit sketchy but sources believe that with the success of Hummer back in the day, it would make perfect sense to build a clean, green rendition of the said vehicle.

You may recall how many folks, including Hollywood celebrities like Arnold Schwazenegger had one in their garages. It was the ride to have for society's Who's Who.

Sure, it was big and brash. And it drank fuel like there was no tomorrow.

But owning one made you cool in your own neighborhood.

The nameplate was so successful that GM even came out with around 3 iterations of the Hummer. The original ummer was truly brutish-more akin to a civilian version of the original Gulf War truck. H2 and H3 were softened up a bit yet still possessed the traits tht people loved about it.

But alas, the financial crisis hit in 2008 and the Hummer was one of the casualties. It was nothing more than a useless toy that just had to go.

Yet with vehicles going fully electric, there just might be a chance for this bad boy to make a comeback. If done right, it could just be the perfect recipe for success.

If you really think about it, apart from the sheer size, the only problem the Hummer had was that it was a drain on our resources.

But if GM were to put in an electric motor, would-be owners could have their Hummer cake and eat it too. And it would be guilt-free at that.

Are you ready for an electric Hummer?

See Now: OnePlus 6: How Different Will It Be From OnePlus 5?

© 2021 Auto World News, All rights reserved. Do not reproduce without permission.