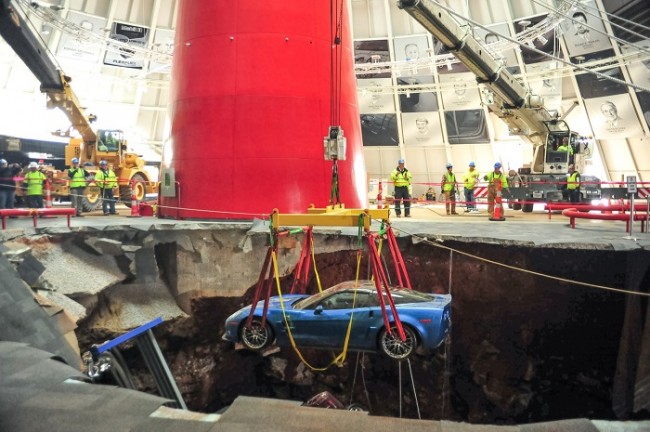 General Motors and Chevrolet presented the restored 2009 Chevrolet Corvette ZR1 at the 2014 SEMA Show today that was damaged when a sinkhole swallowed it back in February along with seven other Corvettes at the at the National Corvette Museum in Bowling Green, Kentucky.
The ZR1, nicknamed the "Blue Devil" was on loan from GM when the incident took place. It dropped into a 45-foot-wide, 60-foot-long and 30-foot-deep sinkhole and was the least damaged of the eight vehicles, according to GM.
It took 10 people six weeks to restore the Vette, with most of the work taking place at an auto shop in Sterling Heights.
"We wanted to bring the car to SEMA simply because it was the first of the sinkhole Corvettes restored, and we know the other two cars will likely take six months to complete," Chevrolet spokesman Monte Doran said in an email to The Detroit News.
Back in February, the automaker said it would try to restore all eight Corvettes that dropped into the sinkhole, but since then it was determined just three could be restored.
GM will now try to restore the 1 millionth Corvette built, a 1992 white convertible. It will also fund the restoration for a 1962 Corvette recovered from the sinkhole, a process that will be overseen by the museum.
The Detroit-based automaker is providing about $250,000 to the nonprofit museum to help in restoration efforts.
The other five vehicles are unfortunately too far gone to be fixed up, though they'll probably become part of an exhibit on the sinkhole sometime in the future. Attendance at the museum has increased dramatically since the sinkhole.
"Our goal was to help the National Corvette Museum recover from a terrible natural disaster by restoring all eight cars," said Mark Reuss, GM executive vice president, Global Product Development, according to a company release. "However, as the cars were recovered, it became clear that restoration would be impractical because so little was left to repair. And, frankly, there is some historical value in leaving those cars to be viewed as they are."
A $3.2 million construction project to fill the sinkhole will start this month. The last public viewing of the sinkhole is set to take place this Sunday (Nov. 9), and repairs should be completed this summer.
Security footage of the cars falling into the sinkhole has been seen 8.4 million times on YouTube.
Click "Start" to see what the ZR1 has been through this year.
See Now: OnePlus 6: How Different Will It Be From OnePlus 5?
© 2021 Auto World News, All rights reserved. Do not reproduce without permission.