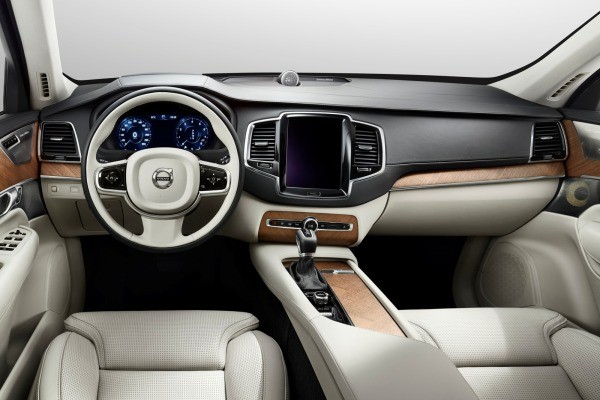 Volvo has unveiled the new interior for its 2015 Volvo XC90 this week, with a full debit set for sometime this August.
The centerpiece of the interior is a tablet-like touchscreen control console that is "virtually button free," according to the automaker.
"The most striking feature is a tablet-like touch screen control console, which forms the heart of an all-new in-car control system," said Thomas Ingenlath, Senior Vice President Design of Volvo Car Group, according to a company release.
Pricing andthe XC90's launch date have not been confirmed by Volvo yet.
The interior combines materials like soft leather and wood with handcrafted details, a new gearshift lever made of crystal from Orrefors, a Swedish glassmaker, and brand new seats.
"These details are designed to become the jewels of the interior. They add a bit of exclusive playfulness rather than pure functionality," said Robin Page, Volvo Cars's Interior Design Director, according to the release.
More information, like safety features and interior air quality will be confirmed this summer.
Technology highlights, like powertrains and chassis, will be confirmed this July.
"Our new interior architecture is pure and uncluttered, while still radiating the sophisticated confidence and formality that luxury SUV customers expect," said Peter Mertens, Senior Vice President Research and Development of Volvo Car Group, according to the release.
The exterior will be unveiled at the end of August.
The vehicle will compete with similar vehicles like the Acura MDX, Buick Enclave, Mercedes-Benz GL-Class, among other vehicles.
"The customer and the customer experience are at the heart of everything we do at Volvo Cars. We don't do technology for technology's sake - everything in a Volvo is there to make our cars safer and more pleasurable to drive," said Alain Visser, Senior Vice President, Marketing, Sales and Customer Service of Volvo Car Group, according to the release.
Click "Start" to begin the slideshow.
See Now: OnePlus 6: How Different Will It Be From OnePlus 5?
© 2021 Auto World News, All rights reserved. Do not reproduce without permission.