In line with the Fast and Furious movie that was released last week, findandfundmycar.com looked at the world's most popular sports cars by country and revealed the sports cars that were the favourite based on Google search data.
The Ford Mustang receives 47k searches a month in the UK, making it Britain's most popular sports car. Following, the Audi R8 receives 44k searches a month and the third is the Porsche Taycan, getting around 43k searches a month.
Globally, the Ford Mustang comes out top with 979k searches per month, followed by the BMW i8 with 931k a month.
This below map shows each country's most searched for sports car: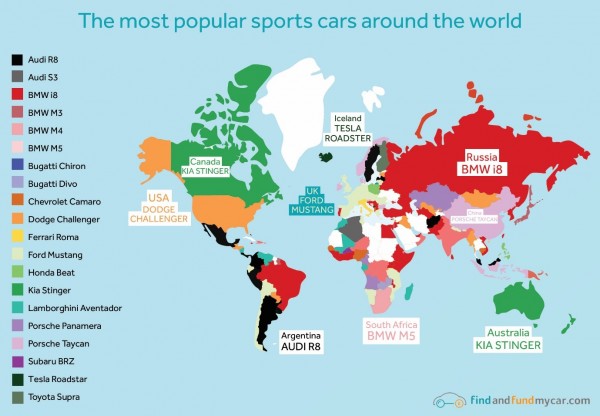 Phil Morgan, head of Findandfundmycar.com, says:

"In line with the new Fast and Furious movie this year, we wanted to look at what sports cars are the most popular around the world, and also how this differs by country. We're not surprised about the Ford Mustang coming out on top, but maybe more surprised by the BMW i8 being 35 countries' favourite. This is what makes these pieces of research so great - you can never predict the results!"

The Ford Mustang is the name given to the series of American automobiles that have been in production since 1964 and is also the longest-produced Ford car nameplate.

As for the BMW i8, it was only released in 2014 and is a plug-in hybrid sports car, which came to the end of production in 2020.

The full data set can be viewed here.

See Now: OnePlus 6: How Different Will It Be From OnePlus 5?

© 2021 Auto World News, All rights reserved. Do not reproduce without permission.