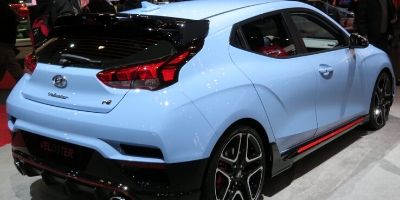 For the "2019 SEMA Show" in Vegas, there is more to expect than SUVs. Tuner fanatics will rave at what Hyundai has cooked up! Not Kimchi or any other Korean dish but a "Hot Performance Concept Hyundai Veloster N" that looks really sleek and fast. Fast car aficionados will love how Hyundai's own customizers deck out this compact hatchback with all that kit.

Everything is short of scorching with all the OEM-components and performance add-ons. One look and it will be a dose of steroids that maxes out the visual impact and dynamic impression it has. See this Korean hatch in full glory at their SEMA booth. Kitted out with bolt-on parts that showcase aftermarket mods for the sporty Veloster.

Extremely style Interior components

This performance concept features touches of Sabelt Alcantara touches on carbon sports seats. Aluminum shifter knob for a roadster feel. Starting and stopping is easy as a button press. Keeping up the style is colored seat belts and matching floor mats.

The door has an N-branded sill cover as an added garnish. Premium Alcantara accents that are used inside the interior on gear knob boot, lower bezel (steering wheel), around the air vent, horn pad, armrest, lining for pillars, headliner, parking handle, and the bezel for the door control.

Exterior looks for Concept kit


Cladding the exterior is extra bolt-on parts included for the sport tuner mod. Slapping a KWA hood inner and outer, garnish on the front grill, and other exterior parts. Lavishly applied garnish on the front splitter, rear wing, rear diffuser, side sills, outer mirror cladding, and with an engine cover included.

Performance hardware improve car performance

Still has the basic engine package without much hardware changes for it. The 2.0-liter in-line- four-cylinder spits out 275-horsepower as the likely output. Improving exhaust performance is the Cat-back exhaust system for faster running. These are the only mods installed under the Veloster N Performance variant.

Under-carriage mods for better road handling
Emphasis on better handling with lateral and braking performance, better handling on corners and better road grip with control. The under chassis gets a boost with Extreme Racing Coil-over suspension configuration. Getting the best shock damping with H&R coil springs, Daewon Steel front and back roll bars for less body roll. Other suspension mods including WIF chassis support, footing with 19-inch OZ rims and Pirelli P-Zero Corsa tires.

Stopping and braking with bumped up braking specs. Take a gander at "Alcon" front-six piston and back-4 piston rotors, with front rotor disks (15 inches) and rear disks (14.2 inches) equipped. They are bigger by 1.4 and 1.8 inches compared to regular spec Veloster N.

Will it become an optional variant after SEMA?

Sport tuners bound for the 2019 SEMA Show like the Performance Concept Hyundai Veloster N will be coveted by motorheads of the tuner vein. Even the standard spec Veloster N is hot, but with these mods even hotter! SUVs might go everywhere, racing this on a track will blow your mind more. Here is hoping it gets the aftermarket tuning package will be out. Any takers and hope it is a yes! Let us know.

See Now: OnePlus 6: How Different Will It Be From OnePlus 5?

© 2021 Auto World News, All rights reserved. Do not reproduce without permission.