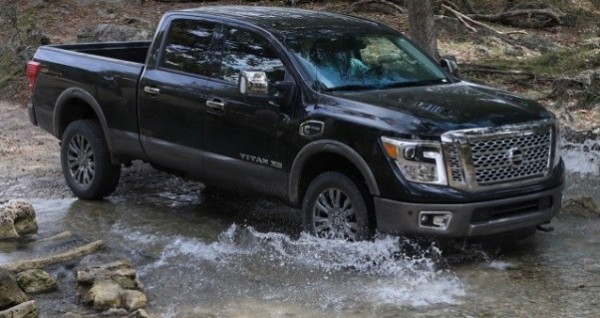 Will it be one of the best pickup for you. Especially that Nissan has placed it between light and heavy-duty, which puts it right in the middle. Nissan made some makeovers to refresh the unit inside and out.

It's a far cry, from the previous version and it shows that Nissan did the homework on the current 2020 Nissan Titan XD. Improving the trim and equipment to make the model better than ever. Upping the ante to poise itself as competition in the US truck market is very stiff. However, getting the lowdown on what it offers in trim and equipment will show how this truck should stack up.

1. No more diesel powertrain, under the hood is a gas engine.
Gone is the 5.0-liter Cummins V8 diesel engine power mill, a 5.6-liter gasoline V8 provides the muscle for this larger pickup. This XD will be capable of 400 horsepower and 413 foot-pounds of torque with a slight power increase. Mix it up with an upgraded nine-speed automatic that will squeeze power out of the engine.

2. Exterior changes are aplenty to size and dimensions.
Super-sizing applies to this 2020 option, and it shows. All XD models will be standard as a crew cab that accommodates more passengers. Plus, the truck bed is 6.5 feet long, to carry anything in it. Increase in size is measured in a longer 15 inches bigger. Overall the wheelbase is a whopping 151.6-inches that is a significant sizing up.

3. Reinforced and further improved ladder frame for 2020.
This truck is not a weak willy because the ladder frame is made stronger for towing heavier payloads. It's predecessor which is the Titan half-ton could tow less than it. How much the XD can really tow has not been determined yet.

4. Changes to the trim level of the Nissan Titan.
For Pro-4X it receives the lava-red filled Nissan marking with a tailgate finisher colored black. Trim for the platinum reserve model has satin chrome finisher and ordinary chrome finish. These trim levels are dependent on what model is opted for.

5. Features that are made available in this year's model.Keeping the equipment current and up-to-date are towing aides like an integrated trailer brake controller, trailer sway control (TSC), downhill speed control for tow and hauling. Included is a rearview monitor with trailer guides, and Nissan's around-view monitor for added safety.
Inside the cabin is an 8.0-inch infotainment touchscreen, that is linked to an all-around view camera. Other features installed are modern safeties like adaptive cruise control, automated emergency braking and pedestrian detection and other helpful features.

If the 2020 Nissan Titan XD pickup truck qualifies as the best pickup, with all the upgrades and improvements to it. A lot is going for it with all the changes that make it the better choice.

See Now: OnePlus 6: How Different Will It Be From OnePlus 5?

© 2021 Auto World News, All rights reserved. Do not reproduce without permission.