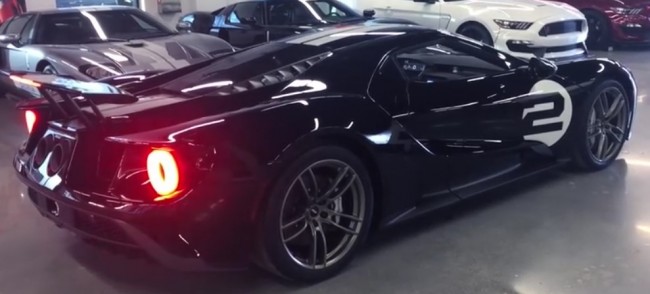 The 2017 Ford GT is a 600 horsepower super star! One of the many things that makes it special is its five different driving modes: Normal, Wet, Sport, Track, and V-Max.

(Photo : fordgtforum/YouTube)

The 2017 Ford GT is a 600 horsepower superstar! One of the many things that make it special is its five different driving modes: Normal, Wet, Sport, Track, and V-Max.

While exotic sports cars don't generally come from American car manufacturers, this all-new GT is one of the exceptions. According to Edmunds, Ford decided to make this new sports car and make it BIG, something that would make Le Mans proud.

There are so many interesting new features about this sports car. For one, its underlying structure is largely made of carbon fiber. The super lightweight and super strong material puts it at the same level as elite road-going sports cars. In addition, it has an aluminum front and rear suspension subframe. The car weighs around 3,100 to 3,200 pounds, despite having such a grand size.

Apart from the carbon fiber construction, it also has impressive aerodynamics. The body has a raindrop shape from above that tapers at the rear of the car. The end result is enhanced specifically for greater stability and downforce.

In addition, they added several active aero enhancements too. This includes an amply sized rear wing that rises at high speed. This provides more downforce and a sophisticated adjustable suspension that quickly lowers the ride height to maximize booth stability and grip.

The 2017 Ford GT also has an impressive turbocharged EcoBoost 3.5-liter V6 engine. This is the very same engine found on the F-150. While it is unusual to pair a pickup engine with a sports car, it works pretty well. All in all, it is capable of 647 horsepower and 550 pound-feet of torque.

Apart from its engine, aerodynamics, and lightweight construction, it has another ace up its sleeves. This car has five driving modes! In a report by The Drive, the five driving modes are the following: Normal, Wet, Sport, Track, and V-Max. The 2017 GT has five driving modes in order to make sure that the driver gets the most out of their supercar.

Normal mode is for typical conditions. Here, the GT achieves ground clearance of 120 mm and offers standard and available comfort damping. The rear wing also deploys at 90 mph and acts as an airbrake when necessary.

Wet mode is used for driving in the snow or rain. Throttle control is adjusted to limit sliding and launch control is disabled.

Sport mode opens up the throttle and allows for quicker gear changes. The turbocharger anti-lag is also activated and the rear wing comes out at speeds above 70 mph.

The Track mode offers more power than the Sport mode. It lowers the ride height by 50 mm, increased spring rates, and offers the firmest possible damping. In addition, the aerodynamic openings are closed in front for maximum downforce. All of this happens in under 2 seconds!

V-Max mode standard for Maximum Velocity. This helps drivers achieve the fastest possible straight-line speed. Hold on to your hats, this mode is insane! The ride height is also lowered by 50mm and all the aerodynamic elements are shut down. Stability control is still active, though.

The 2017 Ford GT is a car for every man. But it is mostly for those who were deemed worth enough to buy one. Ford is only offering 1,000 copies of this carbon fiber supercar and only to people who passed their screening process!


See Now: OnePlus 6: How Different Will It Be From OnePlus 5?

© 2021 Auto World News, All rights reserved. Do not reproduce without permission.