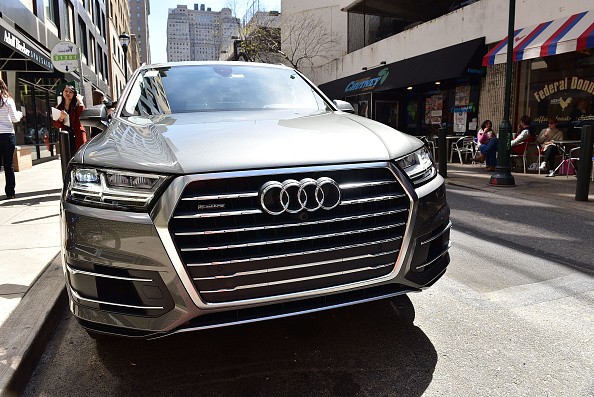 Audi Q7 parked in front of Abe Fisher Restaurant during The Impossible Reservation: Philadelphia presented by Audi on April 16, 2016 in Philadelphia, Pennsylvania.
(Photo : Lisa Lake/Getty Images for Audi)

With 27 years and four generations of pedigree tucked under its belt, the Land Rover Discovery is set yet again to release the fifth in a line of finely crafted, performance-oriented SUV in the market. However, in a twist of fate, Audi who is the new kid on the block when it comes to luxury SUVs is also poised to take the market by storm with its 2017 edition of the Q7 SUV.

So how do these two stack up against each other? Let's find out.

2016 Land Rover Discovery. The powerhouse 2016 Land Rover Discovery has a myriad of changes from the previous generation. However, the most significant are the least obvious one. In place of the old truck-based steel ladder frame is an all-aluminum unibody SUV design.

This design change alone is responsible for cutting the curb weight on the 2016 Land Rover Discovery by an impressive 1,000 pounds. Overall, vehicle weight now comes up to just 4,700 pounds, reports TheCarConnection.

With this significant weight loss, a better performance is expected from the inherited 3.0-liter, supercharged V6 that still pumps out 340 hp and 332 lb-ft of torque. However, a new option for the Discovery is a 3.0-liter diesel V6 that produces 254 hp and a big 443 lb-ft of torque.

Both powerhouses are mated to a ZF eight-speed automatic capable of towing 8,200 pounds. That is an increase of nearly 300 pounds from the previous model.

2017 Audi Q7. Audi, however, took six years just to get the second generation Audi Q7 out on the market. With more than 500,000 units of the first-generation Q7 sold worldwide, it's easy to understand why Audi was in no hurry to come up with an heir to the throne.

Throwing modesty aside is a new, more aggressive-looking version of the 2017 Audi Q7. Coming in at a couple inches smaller than the first generation, the boisterous new grille design and boxy fenders make up for the smaller size with a more aggressive look that alludes to the legendary Quattro Coupe.

But don't let the appearance fool you since the 2017 Audi Q7 is 700 pounds lighter, according to Car Advice. This dramatic weight loss is achieved by departing from the previous model's off-road heritage to a platform more similar to the more common passenger cars.

Aside from new parts like the axles that are lighter by a whopping 148 pounds, the 2017 Audi Q7 makes liberal use of aluminum in its body. This weight shaving has made the Audi more fuel efficient while on the road.

Two engine variants are a 3.0-liter TDI producing 272 hp and 443 lb-ft of torque and a 3.0-liter supercharged V6 making 333 hp. Fuel consumption in this configuration is estimated to be around 32 mpg highway with the diesel engine and 27 mpg highway with the supercharged V6.

The 2016 Land Rover Discovery in its current evolution, however, has improved its ground clearance by 7.9 inches lifting the SUV to 35.4 inches. It still comes loaded with all the Land Rover goodies we've come to love like Terrain Response 2 multi-program off-road system and All-Terrain Progress Control.

It also features advanced Tow Assist which lets you use the Terrain Response rotary controller instead of the steering wheel when backing a trailer. Third row and cargo space are also improved thanks to a 5.5 inches increase in length.

Other amenities include six 12 volt charge points, nine USB plugs, 3G wifi hotspot, and a 10.0-inch infotainment screen. It also comes with the Activity Key wristband that lets you lock your keys in the car and unlock it later by touching a waterproof wristband to the D in the tailgate badging.

The new 2017 Audi Q7, on the other hand, loves to hit the curves thanks to its adaptive air suspension. It delivers not only comfort but a sporty driving feel. It even gets better with the optional four-wheel steering system.

With a class-leading interior design, the Q7 is both functional and aesthetically pleasing. With a host of electronic gizmos and sensors to aid the driver, Audi may have come to a step closer to defining autonomous driving.

These include brake-based torque vectoring, Traffic-jam Assist which essentially lets the Q7 drive itself on the highway at speeds of up to 40 mph, a trailering assist that will back up and steer the trailer for the driver, and a plethora of other features like blind-spot monitoring, etc.

With this latest offering from Audi, the long wait for the second-generation Q7 was well worth it and the long layover served Audi really well. But in the fifth generation 2016 Land Rover Discovery, we are hard pressed to find an SUV that provides a better balance of capability and good looks.

See Now: OnePlus 6: How Different Will It Be From OnePlus 5?

© 2021 Auto World News, All rights reserved. Do not reproduce without permission.