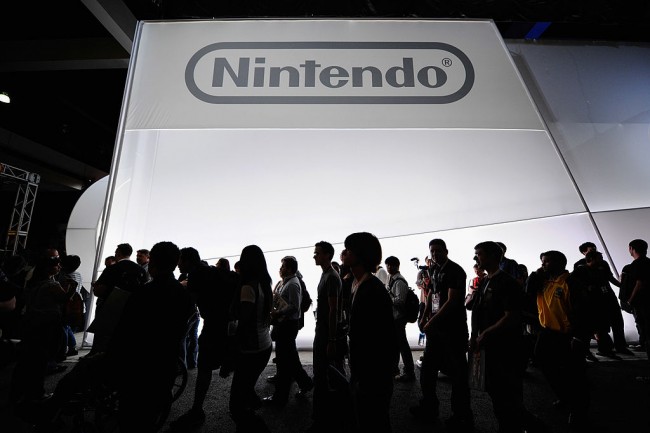 Nintendo is once again gearing up for the release of its brand new concept, the Nintendo NX.
(Photo : Photo by Kevork Djansezian/Getty Images)
Much anticipated this coming week is the Nintendo NX. Reports have been recently dropping that Nintendo will reveal its newest either on Oct. 4, 11 or 18. The predictions are based on the gaming company's track record of launching their super gaming consoles.
More so, with the features of Nintendo NX, other gaming companies have claimed that this time, this neo-console will be a handheld and home console hybrid. Other says it will be a cartridge-based one. Although some of these console enthusiasts have been speculating on and on, Nintendo has yet to reveal actual details.
Although everything then was just mere speculations and unconfirmed conclusions, one thing is certain - Nintendo NX is a gaming device worth wishing and having for.
Let the games begin
Nintendo's mystery console so far has been that talk of the gaming town not just for its rumoured features, but the games that might come along with it as well. Features are features for gaming device, but the games unto where the console will be used is the first and most thing to consider and look for.
Nintendo NX's features are yet to be revealed but the excitement is making eyes bigger with these confirmed games, which the gaming e-buddy will reportedly be bringing to us.
The Legend of Zelda
This games was first intended to be release with the Nintendo's previos Wii U. However, this game must be very amazing in that the company has decided to delay its release and allot it alongside the Nintendo NX.
Project Sonic
Sega informed that this blue creature will rock the gaming world in 3D form and thus, it is best played with NX. Sonic team shares that also this time, Sonic's adventure is a tougher one. They furthered that the game concentrates on giant robots invasion.
Just Dance 2017
Being the eighth in the Just Dance franchise, Just Dance 2017 will feature more than 40 new songs with trending dance steps that will surely be enjoyable for customers, whether you're a dancer or not.
Dragon Quest XI
Yuri Horii, the game's series creator, confirmed to Japanese magazine Nintendo Dream that this game is being developed for Nintendo NX. It will reportedly be released on May 27, 2017, without announcement for gaming people of the West.
Ready to Rock on March
As Nintendo releases its financial reports, March 2017 appears to be the date of Nintendo NX release. The company is reiterating that Nintendo NX is the "brand new concept" due to their fear of some illegal copiers.
"In terms of NX, there's an idea that we're working on. That's why we can't share anything at this point, and I don't want to comment on the other companies. If it was just a matter of following advancements in technology, things would be coming out a lot quicker," said Shigeru Miyamoto, a Nintendo creative associate.
Long Live the Legacy
The market knows that Nintendo has been in the video game business for 30 years. Many of its patrons can attest how rich their legacy is when it comes to IP. This indeed is one of the company's trading strengths.

This time, Nintendo will not stop. Nintendo NX is yet another piece that they have gone for in the strong hold and hope that console's business will have a more and more success.

See Now: OnePlus 6: How Different Will It Be From OnePlus 5?

© 2021 Auto World News, All rights reserved. Do not reproduce without permission.