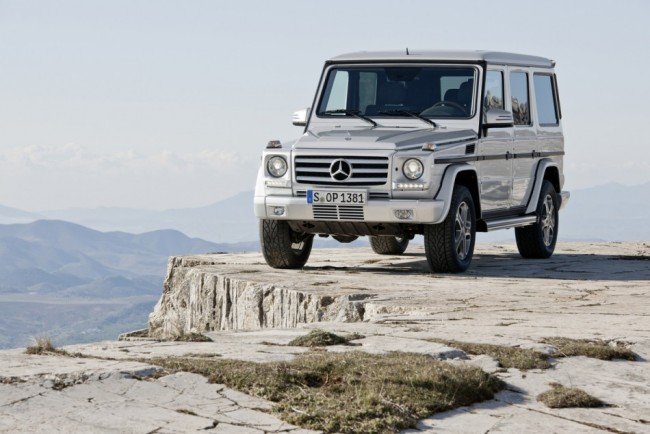 Mercedes-Benz released new photos of the 2013 G-Class today, unveiling the looks of the luxury brand's SUV.
The G-Class did not appear at the New York International Auto Show which began last Friday and continues until April 15. Instead, the company has chosen 2012 Beijing Motor Show to be the first public appearance of the vehicle, as eGMCarTech reported.
"Our G-Class has been a force to be reckoned with for the last 33 years," commented Dr. Dieter Zetsche, Chairman of the Board of Management of Daimler AG and Head of Mercedes-Benz Cars.
"In its latest evolutionary stage, it offers state-of-the­art, powerful engines, a further improved range of luxurious appointments and the very latest safety features, as well, of course, as its now legendary off-road capabilities. At the same time the design remains true to its down-to-earth, unmistakable style."
Dr. Zetsche's comment on the design that is "true to its down-to-earth, unmistakable style" is expected from the conservative German automaker. The new design looks almost identical to the previous models with only few minor changes, such as new LED daytime driving lamp in the exterior and new navigation screen in the interior.
The power of the vehicle had some minor boost, increasing its horsepower to 388 from previous model's 382 horsepower. The 2013 will be equipped with the same 5.5-liter V8 gasoline engine as before.
Perhaps the biggest change is in the technology. The new model will come with a large array of new features, including TFT color display, COMAND system with DVD changer, navigation system with off-road functions, and voice-controlled Bluetooth.
Following slides have new photos of the Mercedes-Benz G-Class. Click "Start" to begin the slideshow.
See Now: OnePlus 6: How Different Will It Be From OnePlus 5?
© 2021 Auto World News, All rights reserved. Do not reproduce without permission.