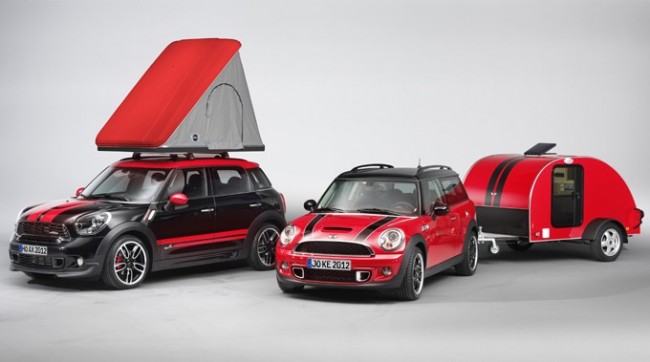 MINI has published an official release on its website, dated April 1, 2012, announcing an upcoming trailer and a roof-top tent, raising speculation whether it is true or a bad April Fool's joke.
Around 3 p.m. PST on Saturday, which is around 11 a.m. on April 1 in London, the BMW Group announced adding camping element to its MINI models. According to the release, MINI Cowley Caravan and MINI Swindon Roof Top Tent are designed to give "bedding down for the night" experience for two people.
"Enter the 'Cowley' caravan, offering everything you need to pitch camp in comfort: two welcoming sleeping berths, a twin-burner gas-stove, a water tank with pump and dish-washing facility, a solar module to charge the on-board battery and a 230-volt power connection to supply the refrigerator, TV/DVD and hi-fi stereo system," wrote MINI regarding the caravan.
And for the tent, this is what the company had:
"Having found a fittingly dreamy place to catch a stylish night's shut-eye, it's just a case of climbing up onto the roof of the MINI, lifting up the upper half of the roof-top tent box and plumping your pillows ready for impact. The roof-top tent works a treat, whether the location for your beauty sleep is the English shires or the foothills of Kilimanjaro. Indeed, should you have chosen one of nature's livelier spots to spend the night, the elevated sleeping position will keep passers-by from the animal world at arm's length."
As interesting as it may sound, the release could not avoid receiving the suspicion of being a joke.
Nathan Adlen, Denver Car Examiner, said "Still, it seems a big odd to release this information right now," on Examiner.com
"I have no idea if this is MINI's way of implementing a April Fool's joke as this press release hit moments ago – which is April 1st in Europe." wrote Adlen.
The press release from the company could be found here.
Photos of MINI Cowley Caravan and Swinding Roof Top Tent are on the following slides.
What do you think? True story or April Fool's joke?
UPDATE: It turned out that this is an April Fool's Day joke, confirmed by the company. Click to read more.
See Now: OnePlus 6: How Different Will It Be From OnePlus 5?
© 2021 Auto World News, All rights reserved. Do not reproduce without permission.