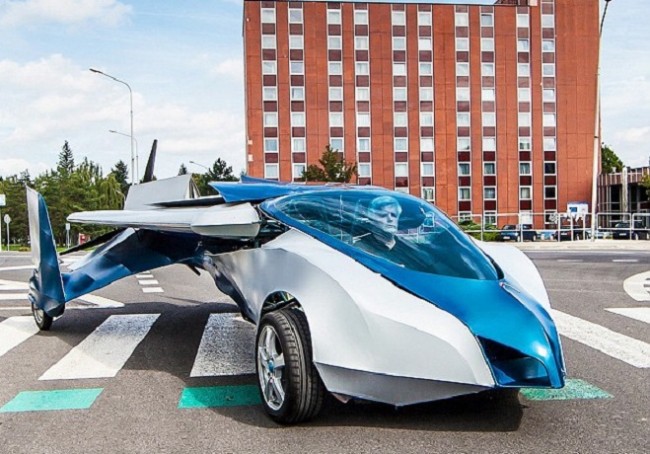 A production-ready flying car will be unveiled to the public later this month.
Austria-based firm Slovakia Aeromobil announced this week that it plans to unveil a production-ready "Flying Roadster" at the Pioneers Festival in Vienna on Oct. 29, according to the Daily Mail.
The Aeromobil is capable of transforming from a car to a plane simply by unfolding wings that fit alongside the vehicle's cockpit and starting a propeller that is in the car's rear.
"In terms of automobile configuration, it fits to a standard parking space, its engine enables it to tank at any gas station, it is fully accustomed to road traffic and as a plane it could both take off and land at any airport in the world," reads the company website.
The Aeromobil has a 27-foot wingspan when in airplane mode, according to the company site. It uses a Rotaz 912 aircraft engine.
The car has a top speed of 100 mph on the ground, and is capable of reaching 124 mph in the ar.
The vehicle can hold two people, weighs 1,000 lbs., and has a cruising range of 430 miles.
The Aeromobil flying vehicle is the product of designer Stefan Klein, who started designing flying vehicles in 1990. The current model is the third version, according to the company.
"We have been developing the concept of a flying car since 1990. Our first model looked quite bizarre and it would have problems in the regular use," said Tatiana Veber, an AeroMobil spokesman to the Daily Mail. "That was a signal to improve the concept of the flying car in a way to become an integral part of the regular road traffic."
The Massachusetts-based Terrafugia will start selling its Transition model flying car to the public in 2015 for approximately $300,000.
Unfortunately interested customers won't be able to fly the car with a regular state issued license. Terrafugia says that all owners will have to obtain a pilot's license and pass a test to fly the vehicle.
While the Terrafugia model needs a runaway to takeoff, the TF-X option acts more like a helicopter, capable of taking off in a vertical position.
The TF-X won't be available for purchase for a while however.
See Now: OnePlus 6: How Different Will It Be From OnePlus 5?
© 2021 Auto World News, All rights reserved. Do not reproduce without permission.