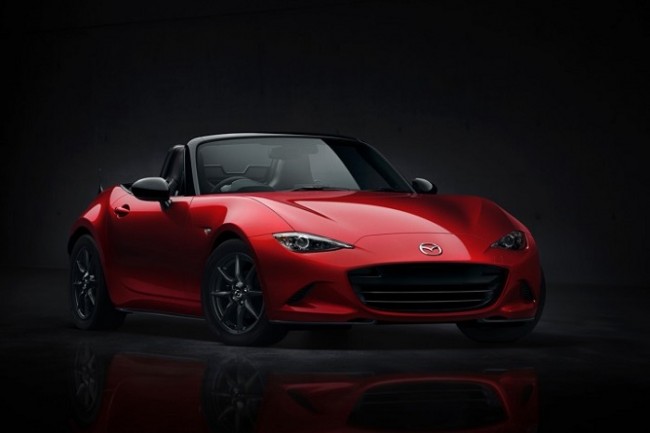 Mazda has revealed its highly-anticipated 2016 Mazda MX-5 Miata, while confirming the vehicle has a mid-2015 showroom date.
Design cues include blacked-out A-pillars and mirrors, exterior LED lights, and a lower hood. The fourth-generation MX-Miata is lower, lighter, and wider than its predecessor.
The 2016 vehicle's interior features "a lot more confidence and attitude," said Derek Jenkins, Mazda's North American director of design, during the live reveal of the vehicle on Sept. 3. "(But still with) the Mazda face."
The automaker was challenged to redesign the vehile while retaining the "classic roadster, but with a totally modern design and state-of-the-art technology," he added.
Mazda's 2016 MX-5 Miata will likely be equipped with features like a 2.0-liter Skyactiv-G inline four-cylinder engine and a six-speed automatic transmission. Technical specs have not been confirmed yet by the automaker, and are expected to be announced later this year.
"There's a lot of pressure to do a great car because of the legacy," Jenkins said. "We're so lucky to have such an icon."
Interior information has not been confirmed by the automaker yet either, though the "interior is much more aspirational with a high-quality feel."
The redesign should make the vehicle, which is celebrating its 25th anniversary, even more competitive against rivals like the Porsche Boxster and Mini Roadster.
The redesign also cuts approximately 220 pounds off the vehicle's current weight of 2,500 pounds, which should improve the vehicle's fuel economy.
Fuel economy estimates for the 2016 vehicle haven't been released yet.
The 2015 model returns 21 mpg in city driving and 28 mpg on the highway, according to the EPA.
Pricing has also not been announced yet for the new vehicle. The base 2015 MX-5 Miata starts at $24,765, including a $795 destination fee, according to the automaker.
Click "Start" to begin the slideshow.
See Now: OnePlus 6: How Different Will It Be From OnePlus 5?
© 2021 Auto World News, All rights reserved. Do not reproduce without permission.