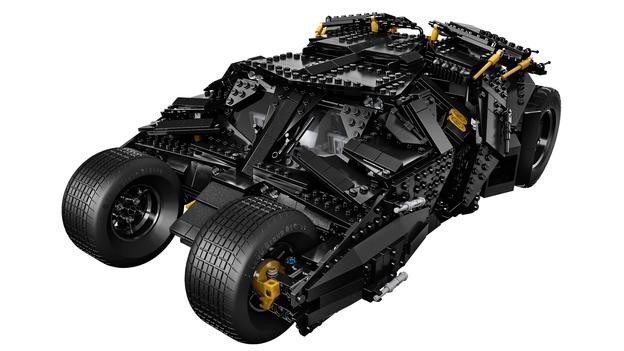 DC Comics declared July 23 "Batman Day" to celebrate the 75th anniversary of the debut of one of its biggest names.
Lego decided to join in on the fun this week by unveiling a 1,869 piece set inspired by the "Tumbler" Batmobile featured in Christopher Nolan's Dark Knight trilogy.
"This is our fourteenth year at San Diego Comic-Con and each year we see stronger enthusiasm coming from a growing audience of fans of all ages," said Michael McNally, senior brand relations director, LEGO Systems, in a press statement.
The set includes a detailed cockpit, moveable top wings, outsize rubber-tread rear wheels, and armored body.
Lego designed the set to measure 5 inches in high, 9 inches wide, and 15 inches long, according to Lego.
The set also comes with min-figurine versions of Batman and his supervillain nemesis the Joker.
The Tumbler is recommended for "children" ages 16 and up.
To purchase the Tumbler, be prepared to pay $199.99 in the U.S., $299.99 in Canada, and £159.99 in the UK, according to the brick maker.
The Tumbler, and other new Lego products can be found at Comic-Con this week at booth #2829 of the San Diego Convention Center, July 24-27.
"We're thrilled to deliver a family friendly brand experience, punctuated by custom life-sized models, play opportunities, exclusives, collectibles and sneak peeks, that lets children and adult collectors celebrate their passion for properties and LEGO play together in one place," said McNally.
Click "Start" to begin the slideshow.
Check out a tour of the vehicle in the video below.
See Now: OnePlus 6: How Different Will It Be From OnePlus 5?
© 2021 Auto World News, All rights reserved. Do not reproduce without permission.