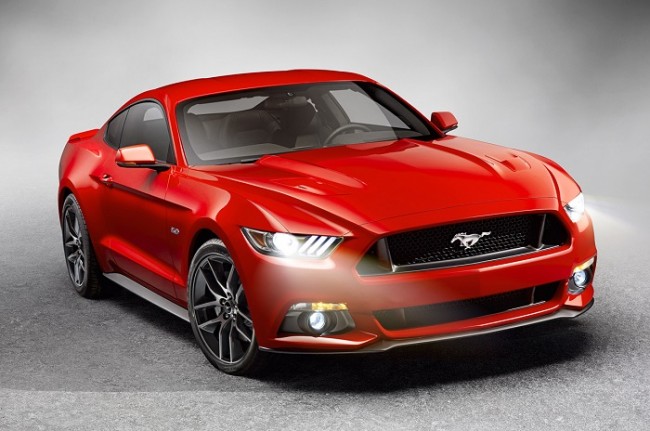 Specifications for the 2015 Ford Mustang were announced on July 17, with confirmation that the new car's 5.0-liter V8 engine will be capable of delivering 435 horsepower and 400-lb.-ft. of torque.
This is an increase of 15 hp compared to the engine used in the previous Mustang, according to a company release.
Ford said the higher hp can be attributed to larger intake and exhaust valves, and an improved cylinder head.
"The 5.0-liter V8 powers into a new generation with a host of upgrades that help it breathe better, especially at higher engine speeds," Ford said in a statement. "Many of these changes are derived from lessons learned in developing the special-edition 2012 Mustang Boss 302."
Standard 3.7-liter V6 engines found in the 2015 model delivers 300 hp and 280 lb-ft of torque.
In comparison, the 3.7-liter V6 engine in the 2014 Mustang delivers 305 hp.
Ford's new pony car comes with a standard six-speed manual transmission, or an optional six-speed automatic with paddle shifters, according to the release.
The 2015 Mustang V6 coupe with a manual transmission weighs approximately 3,526 pounds, representing a 30-pound weight gain compared to the 2014 model.
The 2015 Mustang coupe with the EcoBoost engine and a manual transmission weighs 3,532 pounds, a six pound increase than the V6 vehicle.
The 2015 Mustang GT coupe with a manual transmission weighs 3,705 pounds, or 87-pounds more then the 2014 Mustang GT.
The new Mustang is expected to compete with vehicles like the 2015 Chevrolet Camaro, Hyundai Genesis coupe and Nissan 370Z.
EPA estimates haven't been released yet by the automaker.
The new Mustang will reach dealerships sometime this fall.
Click "Start" to begin the slideshow.
See Now: OnePlus 6: How Different Will It Be From OnePlus 5?
© 2021 Auto World News, All rights reserved. Do not reproduce without permission.