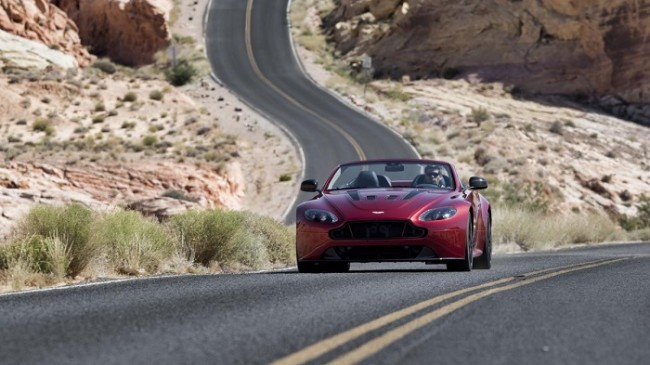 Aston Martin has unveiled its new 2015 V12 Vantage S Roadster, which the company is already calling its fastest roadster ever.
The new Vantage is powered by Aston Martin's 6.0-liter V-12, which is mated to an "auto-shift manual" transmission. The engine helps the vehicle achieve a maximum speed of 201 miles per hour.
The suspension employs three-stage adaptive damping. Owners will be able to choose between Normal, Track, and Sport modes, including changing the amount of power assistance in steering, according to the automaker.
Sport mode changes the timing, gearshift, throttle response, and exhaust note.
The engine achieves 565 hp, 457 lb.-ft. of torque, and delivers 376 lb.-ft. at only 1,000 rpm.
It is able to go from zero to 60 mph in just 3.9 seconds, making it the fastest roadster in Aston's history, according to the automaker.
"The V12 Vantage S Roadster is the mechanical embodiment of this company's exceptional spirit," said Marek Reichman, Aston Martin's director of design, in a statement.
Aston Martin's new V12 Vantage S Roadster follows the coupe the automaker first introduced back in 2013.
Pricing for the new vehicle hasn't been announced yet.
There is a good chance the new Vantage will be sold for $200,000 when it goes on sale later this year.
Click "Start" to begin the slideshow.
See Now: OnePlus 6: How Different Will It Be From OnePlus 5?
© 2021 Auto World News, All rights reserved. Do not reproduce without permission.