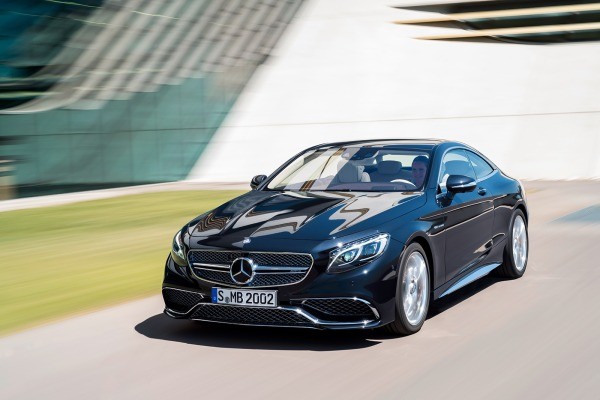 Mercedes-Benz has revealed its 2015 Mercedes S65 AMG Coupe, the successor to the CL65 AMG.
The 2015 model is the latest vehicle to come with AMG's hand-made 6.0-liter biturbo V12 engine, which is now rated at 738 pound-feet of torque and 621 horsepower.
The automaker estimates that the S65 AMG coupe is capable of going 0 to 60 mph in 4.0 seconds, with a top speed of 186 mph.
A new lithium-ion battery replaces the starter and backup battery, which reduces the S65 AMG coupe's weight by 44 pounds.
Mercedes has not confirmed the new vehicle's total burb weight yet.
Three AMG's Speedshift Plus 7G-Tronic transmission modes are available, including: Controlled Efficiency (C), Sport (S) and Manual (M).
An Eco stop-start function is standard in mode "C" only, according to the automaker.
Mercedes AMG confirmed that its combining Active Body Control (ABC), Road Surface Scan, sport suspension, curve tilting function, and Magic Body Control "heightens motoring enjoyment and comfort. The object is not to reach higher cornering speeds, but to produce an even more pleasant motoring experience."
Standard features available to customers includes a touchpad that can be used to access all of the vehicle's infotainment functions and an 8-by-2.75-inch head-up display.
Other standard features confirmed by the automaker includes keyless start, 360-degree camera, parking assist, cross-traffic assist, and a Burmester 3D surround-sound stereo system.
A new three-spoke sports steering wheel, which sits above a 12.2-inch, high-resolution color instrument display cluster, can be found inside the new coupe.
Pricing has not been announced by the automaker yet. Mercedes sells its 2015 S65 AMG sedan for around $224,000, while the 2014 CL65 AMG is priced near $221,000.
The curve tilting function can be utilized between speeds of 10 and 111 mph.
The AMG high-performance compound brake system comes with brake calipers with a gray finish. Red calipers and a ceramic high-performance compound brake system are also available.
The vehicle will reach U.S. dealerships in late 2014, according to the automaker.
Click "Start" to begin the slideshow.
See Now: OnePlus 6: How Different Will It Be From OnePlus 5?
© 2021 Auto World News, All rights reserved. Do not reproduce without permission.