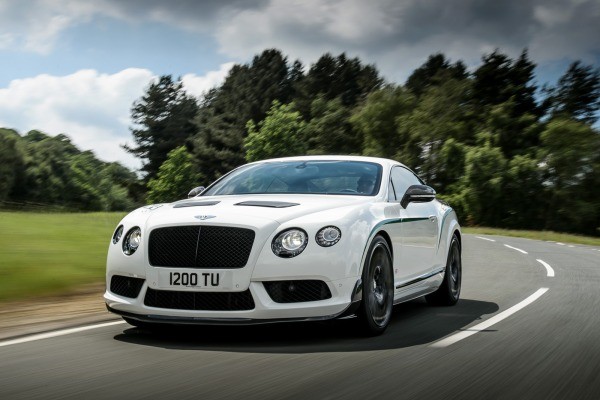 Bentley has announced that its 2015 Continental GT3-R will arrive at U.S. dealerships in the first quarter of next year, according to a company spokesperson.
Bentley spokesman Corey Proffitt said that approximately 99 units of the most exclusive member of the Continental GT family will be delivered in the Americas region, according to Edmunds.
Only 300 units of the 2015 Continental will be sold around the globe.
The Continental GT3-R is a two-seater designed to compete against the likes of high-end vehicles like the 2014 Mercedes-Benz CL63 AMG coupe and the Audi R8 coupe,
The new model is inspired by the new Continental GT3 racecar.
Production versions of the GT-3 R are powered by a 572-horsepower 4.0-liter twin-turbo V8 engine linked to an eight-speed ZF automatic transmission, according to the automaker.
"The Continental GT3-R is the fastest-accelerating Bentley ever," Bentley said in a statement.
The vehicle is capable of reaching 60 mph in just 3.6 seconds from a standstill.
Glacier White is the only exterior color option available.
In a nod to the Continental GT3 racecar, all GT3-Rs will feature two-tone green graphics on the exterior as a tribute to the Continental GT3 racer.
All vehicles come with new 21-inch wheels, according to the automaker.
The cabin comes with sports seats and a center console handcrafted in carbon fiber.
Pricing will be announced closer to launch.
Click "Start" to begin the slideshow.
See Now: OnePlus 6: How Different Will It Be From OnePlus 5?
© 2021 Auto World News, All rights reserved. Do not reproduce without permission.