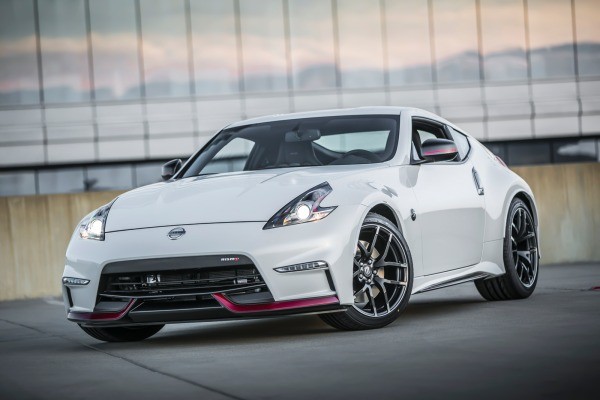 Nissan has confirmed that its 2015 Nissan 370Z Nismo will reach U.S. dealerships sometime this July.
Features confirmed by the automaker includes: Recaro sport seats, optional seven-speed automatic transmission, updated styling, and a new Nismo Tech trim level with a navigation system, according to a company release.
The 2015 370Z Nismo was unveiled at a Nissan Z owner event called ZDAYZ.
Interested customers shouldn't expect the 2015 model to feature any major engine changes compared to its predecessor.
"NISMO is the heart and soul of Nissan performance, both for the track and on the street, so it's fitting that we are showing the dramatic new 2015 370Z NISMO for the first time at a gathering of our most loyal and enthusiast owners," said Nissan Chief Planning Officer and Executive Vice President Andy Palmer, according to the release. "The new 370Z NISMO joins the recently introduced Nissan GT-R NISMO and Nissan JUKE NISMO RS, giving performance fans a range of fresh, factory tuned NISMO models to enjoy."
The vehicle is powered by the same 350-horsepower 3.7-liter V6 engine, mated to a standard six-speed manual transmission, according to the release.
A refined 7-speed automatic with Downshift Rev Matching (DRM), Adaptive Shift Control and manual shift mode with paddle shifters will also be available.
Nissan expects the 370Z to compete with high-end vehicles like the 2014 Audi TT, Chevrolet Camaro, and Ford Mustang, among other vehicles.
Customers can expect the updated model to come with an aggressive front fascia with LED daytime running lights and larger air intakes.
Pricing has yet to be announced by the automaker.
"There's much more to love about the 370Z NISMO than ever before - the new appearance inside and out, enhanced handling, new wheels, more technology and a choice of transmissions," said Palmer. "Our fans here at ZDAYZ want only the best and that's what this new 370Z NISMO delivers."
Click "Start" to begin the slideshow.
See Now: OnePlus 6: How Different Will It Be From OnePlus 5?
© 2021 Auto World News, All rights reserved. Do not reproduce without permission.