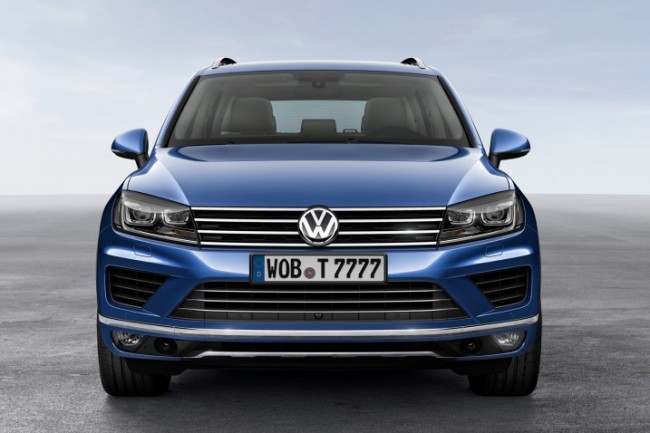 Volkswagen has unveiled images of its 2015 Volkswagen Touareg, which is set to make its formal debut next week.
VW will debut the 2015 Touareg next week at the 2014 Beijing Auto Show
The vehicle goes on sale in the U.S. in early 2015.
The 2015 Touareg comes with a revised front- and rear-end styling, along with upgrades to its interior.
Larger headlamps, a revised grille and bumper can all be seen in the recently revealed photos. Bi-xenon headlamps are standard with all Touareg options.
VW has confirmed that both controls and the interior trim have been updated on the Touareg.
The R-Line package will come with new colors and wheels. The package will be offered in the U.S., said Mark Gillies, a Volkswagen of America spokesman, according to Edmunds.
Three engines will be available in the U.S.: a 236-hp TDI V6, a 374-hp gasoline-electric hybrid, and a 276-horsepower gasoline V6.
The new Touareg is expected to compete with similar vehicles, like the Chevrolet Traverse, Ford Explorer, and Honda Pilot.
Pricing for the Touareg has yet to be announced.
To get an idea what the vehicle may cost, the 2014 Touareg is sold for $44,905, including a $910 destination charge.
Click "Start" to begin the slideshow.
See Now: OnePlus 6: How Different Will It Be From OnePlus 5?
© 2021 Auto World News, All rights reserved. Do not reproduce without permission.