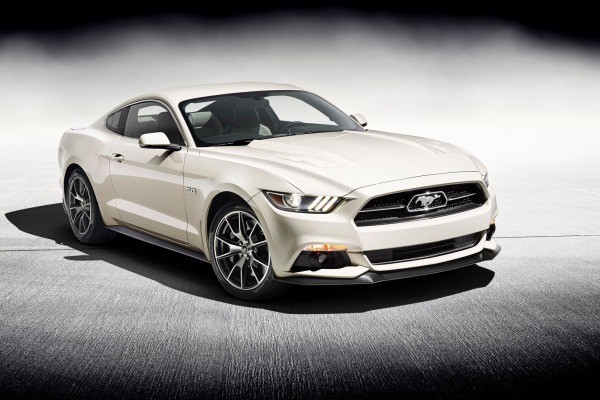 The 2015 Ford Mustang 50 Year Limited Edition will reach dealerships this fall, according to Ford.
The new vehicle was designed based on the 2015 Ford Mustang GT fastback. It will be sold in either Wimbledon White or Kona Blue.
Ford also confirmed that just 1,964 of the 50 Year Limited Edition will be manufactured.
"When Mustang was approved for development more than 50 years ago, I don't think anyone imagined it would spawn such a dedicated base of fans around the world and still be in production today," said Bill Ford, Ford executive chairman, in a statement, according to the automaker. "We are thrilled to be here in New York - where Mustang was first shown to the public at the 1964 World's Fair - to re-create that historic event for today's Mustang enthusiasts."
Interested customers will have the chance to pick what color that want the vehicle in, and if they want six-speed manual or six-speed automatic transmission.
Besides that the vehicle comes with nearly every available option.
Each Mustang will come with a 50 Year badge on the outside and a "unique" owner's guide in a leather portfolio, according to Ford.
Ford-rival GM extended birthday wishes to the car this week.
"The Ford Mustang was introduced 50 years ago this week, creating an entirely new class of transportation, the pony car," GM said in a statement on its website this week. "Chevrolet introduced the Camaro three years later, creating one of the most enduring rivalries in the automotive industry. Chevrolet would like to extend a heartfelt congratulations to the Mustang on its 50th anniversary, and we look forward to another 50 years of rivalry."
The news was announced at the 2014 New York Auto Show. Pricing will be announced close to the vehicle's release date.
Click "Start" to begin the slideshow.
See Now: OnePlus 6: How Different Will It Be From OnePlus 5?
© 2021 Auto World News, All rights reserved. Do not reproduce without permission.