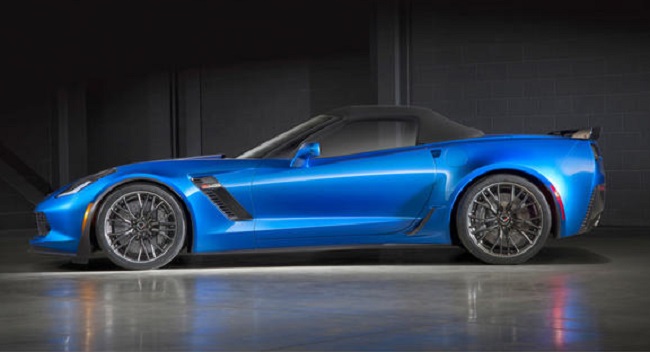 Chevrolet previewed a convertible version of its Corvette Z06 before its scheduled debut at this week's New York Auto Show.
"The Z06 Convertible is a world-class supercar in every sense," said Mark Reuss, executive vice president, Global Product Development, according to a company release. "Only a handful of convertibles in the world bring more than 600 horsepower and 600 pound-feet of torque. Even fewer can match the advanced technologies, aerodynamic design, and visceral driving experience of the Z06 Convertible."
The vehicle is powered by the same 634hp V8 engine, and is available with a 7-speed manual transmission of an 8-speed automatic transmission.
The vehicle will have a roof capable of being operated at speeds of up to 31 mph.
Chevy's Corvette Z06 is the most powerful Corvette of all time, thanks to the 6.2-L V8 engine.
"The most impressive aspect of the Z06 Convertible may be its performance bandwidth," said Corvette chief engineer Tadge Juechter in a statement, according to the release. "Very few cars on the market can match its combination of extreme, supercar levels of performance; the flexibility for daily driving and long-distance commuting; and the 360-degree, open-air driving experience only true convertibles can offer."
The first regular retail production 2015 Chevy Corvette Z06 was sold this weekend at auction for $1 million at Barrett-Jackson Collector Car Auction in Palm Beach.
Chevy donated the vehicle to assist with renovations of the Karmanos Cancer Institute's infusion center.
The winning bid came from Hendrick Automotive Group Chairman and Hendrick Motorsports owner Rick Hendrick.
Both the Corvette Z06 Convertible and Coupe will hit dealerships in early 2015, according to the automaker.
The New York Auto Show is open to the public April 18-27.
Click "Start" to begin the slideshow.
See Now: OnePlus 6: How Different Will It Be From OnePlus 5?
© 2021 Auto World News, All rights reserved. Do not reproduce without permission.