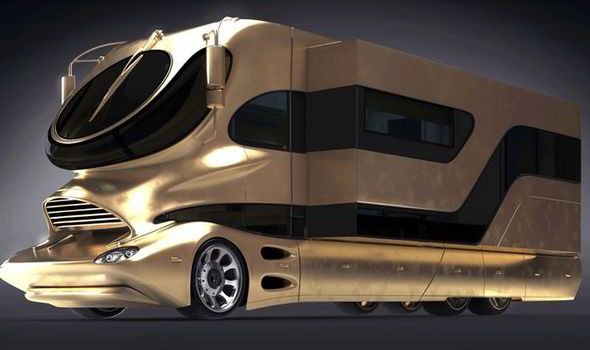 If you have $3.11 million lying around, you can buy an ultra modern and out-of-the box motorhome has gone on sale in Dubai.
The eleMMent Palazzo is decked out with a huge master bedroom, 40-inch TV, on-board bar, fireplace and even its own rooftop terrace. The motor home looks like a hybrid between a yacht, a spaceship and of course, a caravan.
According to Express, this luxurious motor home is even made from solid gold, hence the extravagant price tag. Another amazing feature is the 'Sky Lounge' - with the press of a button the 430ft home transforms into a personal retreat with pop up cocktail bar, under floor heating and extravagant marble lighting.
A spokesman for Marchi Mobile said: 'People never fail to notice innovation, but rarely does the excitement for it last.
'That is how it began for us. But now - after many years of development - we sparked a fire in luxury mobility.
'The eleMMent series from Marchi Mobile is a new class within the premium segment of vehicles, targeted to enthuse lovers of the extraordinary.
'Our goal has not only been to introduce a new line of luxury vehicles - but usher in a new era. This is done by a perfect masterpiece that sets itself apart at first sight.'
The vehicle has been most popular among oil-rich Arab Sheikhs who use the vehicle while driving through the Middle Eastern desert.
See Now: OnePlus 6: How Different Will It Be From OnePlus 5?
© 2021 Auto World News, All rights reserved. Do not reproduce without permission.