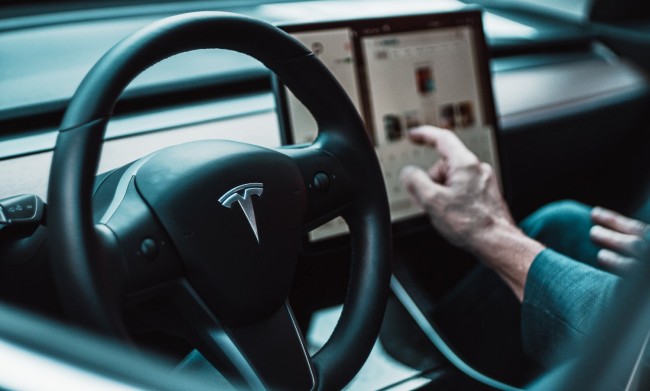 (Photo : Tesla's Usage Of Built In Automobile Cameras Increases Privacy Concerns: Benefits of Dashboard Cameras As Safety Features)
On March 23rd, Consumer Reports stated, "Tesla's reliance on in-vehicle cameras to record and broadcast passengers' video to build self-driving tech is raising privacy concerns, according to a statement on Reuters. The report added that Tesla Inc's usage of built-in car cameras undermines the safety perks in driving monitoring systems. In fact, Consumer Reports' Jake Fisher says, "If Tesla can determine when a driver isn't attentive, it should warn them in real-time as other automakers do.
Monitoring systems owned by automakers like Ford Motors don't record or share video footage. Instead, they monitor drivers' eye movement and head position using infrared technology and alert them if they seem distracted or impaired. While in-car cameras fitted in Tesla automobiles seem to undermine safety, these digital automotive add-ons make cars smarter and safe. Below are a few benefits of in-vehicle cameras as safety features.
Ideal Solutions For Undisciplined Drivers
Safe driving should be a top priority for all drivers. Unfortunately, some individuals don't value road safety as expected. Irresponsible drivers tend to speed, tailgate, use mobile phones, and overtake vehicles in front of them, putting other road users' lives in danger. One of the best ways to combat reckless driving is reporting careless drivers to traffic authorities using recordings on your dashcam. Since dash-cams record your car's surroundings from the moment you start your engine, you can easily capture undisciplined drivers around you. And then use the footage as evidence to report them hence promote road safety.
In-Car Cameras Provide Evidence Of Car Accidents
Resolving car accident claims isn't an easy task, as parties involved tend to deny responsibility. As a result, both parties end up taking equal liability, and in some cases, the innocent party takes the blame for the incident. To ensure everyone gets fair justice, car accident lawyers recommend using video footage on your dashcam. In-vehicle cameras record your journey in real-time, providing efficient proof of when the car crash occurred. Your auto accident attorney will then use the evidence to negotiate a fair settlement with insurance companies.
Perfect Tools For Preventing Parking-Related Accidents
Parking a car can be daunting, especially for beginner drivers, as they often scratch other vehicles or hit objects behind them. Installing a dashcam helps you park without much hassle because you'll have a clear view of your driving environment. Another benefit of investing in dashboard cameras is that they can stay on at night even when the engine is off. This feature helps capture vandals who attempt breaking into your car when parked in poorly lit areas. Moreover, you can operate in-car cameras remotely via your smartphone or laptop.

Dashboard cameras or in-vehicle cameras are small and cost-effective automobile add-ons that enhance road safety. Ideally, dash cams provide a clear view of your driving surroundings to prevent you from hitting other vehicles, people or objects. Dashboard cameras also help you capture events before and after a crash, providing you with enough evidence to file an accident claim.

See Now: OnePlus 6: How Different Will It Be From OnePlus 5?

© 2021 Auto World News, All rights reserved. Do not reproduce without permission.