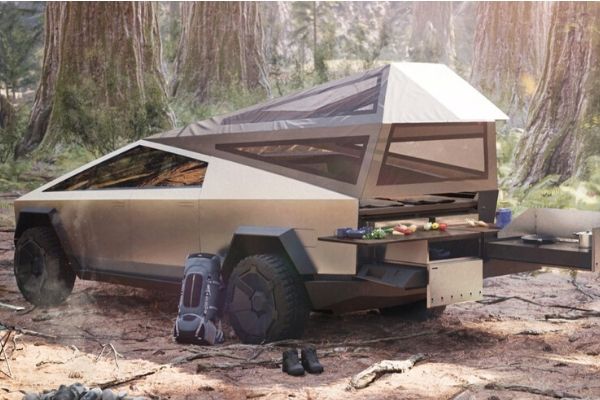 Is there an end to the marvels of the Tesla Cybertruck? Another bombshell was dropped by "Elon Musk" and turned his baby into the jack of all trades. With camping, as one of its what it can do, that will another mad addition but there might be more.

For now, the Teslarati should be curious, what makes it any different from other trucks with a tent? One of the reasons why pickups are the SUV of choice is its versatility and power. Things are not the same anymore, Cybertruck is now officially a must-have fun car.

While other automakers scream that they the most horses under the hood, or this is off-road ready. Tesla just made public plans to convert their e-Pickup into self-contained camper, with the ability to go where roads lead it. Enough of that, here are tidbits that to further wet everyone's appetite about the astounding e-Pickup.

Tidbit#1

Anybody want to have a Tesla approved and zombie apocalypse grade "air-filter" modified for bio-warfare? Have this on any trip and be sure to survive all those awful germs outdoors. This e-pickup is just a custom tailor for those want to make sure, the air breathed in will pure and uncontaminated. It is not a longshot that Tesla might have it installed though.

Tidbit#2

Here is one attractive option if it ever gets onboard the Cybertruck which will be hard to beat. Will Ford think if this as well, to even out the odds with Elon's publicity rampage that has gotten all ears on to the truck. Plans to extend the AC and heaters to work in the truck's bed when the cover rolled over it. Another is space will be accessible from second-row seating. A sure hit if there is a way to top the power-up, too!

Read: Tesla Model X Did Not Just Win the Tug-of-war With Ford, It Was a Publicity Coup D'état

Tidbit#3

If using the truck bed is not enough for those who will take the Cybertruck camping, here is another smashing option for Tesla's customers. Getting a third-party tow camper will be towed by the e-Pickup.

This is not the end of it, more coming soon.

Tidbit#4

With the Tesla Cybertruck charging is no problem with a solar-panel included as a for the camper version. This allows extensive use of AC or heater without worrying about losing power. This additional option will solve the problem of charging for the e-Pickups owners.

Tidbit#5

Buyers of the e-Pickup will find the batteries bigger than the Model S, which is already one of the higher capacity e-Pickups ready for production soon. Keep the AC running for longer and even power the towed trailer as well. Combined with the large battery and the solar panels, this is one off-the-grid charging option for the best convenience.

Tidbit#6

A standalone camper mode will do as well, even with minimal features that just need a bolt-on truck bed tent. If all fails, adding the tent solves all problems in a pinch and good to go too. Tesla can do simpler and better, no contest about those Swiss-knife on four wheels.

Related Article: Tesla Cybertruck's bed accessible from 2nd row, making a great camping machine

See Now: OnePlus 6: How Different Will It Be From OnePlus 5?

© 2021 Auto World News, All rights reserved. Do not reproduce without permission.