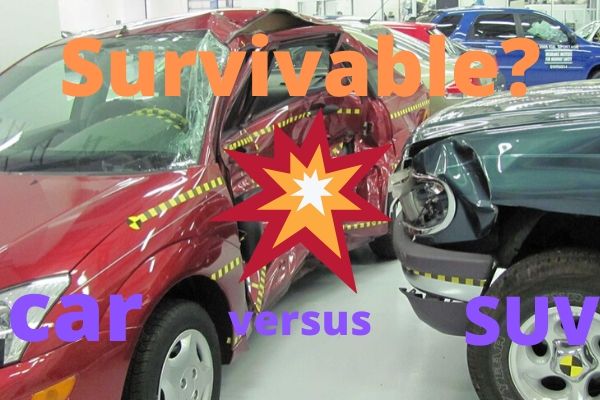 Before you go off and buy that brand-new SUV from the showroom, that new SUV will maim, injure others in an accident. But, the owner will be safe to the detriment of the one in the smaller sedan. Another thing to consider is how good it is for personal safety on the road, but that car costs the environment much more. Yeah, the 4x4 is really good but the big engine gives of carbon emissions in the buckets. Though it makes the one inside look good. That dinosaur people is less than beneficial, though that is not the primary concern.
The allegation that EVs are not as clean as claimed is contested by experts. They have a carbon footprint but not as severe, compare to the carbon emissions of SUVS. For now, the argument is at a stalemate, or is it? Here are reasons that show that SUVS are worse in every manner than an EV that will leave a battery in a landfill for a long time. There other options that damage people and everything else, like a fuel-efficient sedan. So, here is rundown of all the disadvantages on everything else, but not that huge SUV which is the real culprit.
1. Big engines consume more diesel or gas just to drive a huge and unnecessary tank on the road.
Under the hood, they have 3.0-liter V-6 powerplants that need gobs of fuel at the pump, per fill up. Its seems that owning one makes the owner one-up over the guy in the sub-compact. Except that SUV will prompt more fossil fuel use and carbon emissions which is not good for resources.
2. Pack it with all the high-tech safety onboard, it is still very unstable. Yet, 4x4 enthusiasts like them taller and with bigger tires.
Anyone inside the SUV will feel secure that stability and traction control with the safety features will keep him safe. Just in case the car topples over because the owner chooses a highly unstable car with all those safety doodads. Very smart choice but some rethinking required.
Read: Are SUVs Equitable with All the Problems Associated with It and Should it be Banned?
3. Most SUVS can get by with 2WD or AWD at the most. SUVS with 4x4 that are used in suburbs are pointless.
Seems so useless to get SUVS with 4x4 drivetrains and LSD when the car will be used for suburb commutes and highway driving. Pro use of 4x4 for sports and recreation seems better than the urban option.
4. They have taken lives of other drivers, pedestrians, and cyclists who share the road.
Ride an SUV and never fear for your safety, but the guy on the other end may not be as lucky. To be sure get an SUV and never worry about the consequences, if something goes awry on the shared road. Ace move.
5. With more SUV use, there is more congestion in the urban environment. Also, more of them means infrastructure has to be modified for their use.
Driving an SUV will occupy more space on the road and prompt businesses to make more parking lots to accommodate them. Instead of using the land for more creative and beneficial purposes.
Bottom line:
Whether the reasons are accepted or treated as total gibberish, it is up to the owners of these SUVS. Nothing is intentional, but it seems more SUV use has negative affects one other people and everything else.
Related Article: 5 Reasons Why SUVs Suck
See Now: OnePlus 6: How Different Will It Be From OnePlus 5?

© 2021 Auto World News, All rights reserved. Do not reproduce without permission.