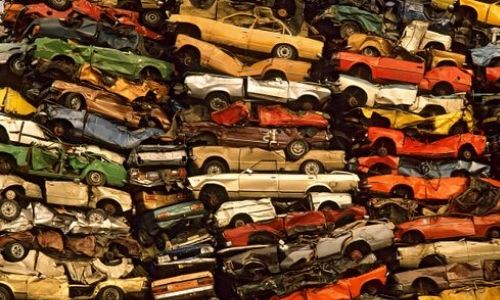 Are you ready to know that the car you drive is not very green, despite all the safety features for us? The answer to the problem is recycled and sustainable cars which are on the way, but is it too late? Now multiply all those cars, with all the by-products that are left.

Does this scenario have to exist when we have the know-how to create processes to minimize car waste. Unfortunately, with the coming of EVS that compounds the problem furthermore. Disposal of traditional auto waste is already difficult, add up how to dispose of the volatile materials in car batteries. Everything is compounded into one big looming mess that threatens nature.

In development are EV car batteries that are recycled and sustainable, for now, those available will end up in explosive landfills. Conventional cars have more volatile components compared to electric cars, that have a problem with battery disposal. These are oils, coolant, additives, and finally their metal chassis that will linger on. Transforming the car of the future will be a fully recycled one, that never leaves harmful material when disposed of.

Car owners can help bring this aspect of pro-active car ownership by doing these small steps. While the tech firms and think tanks will devise new materials to make it a reality. It should be done, but we need to wait. These stop-gap measure done by concerned car owners will do for now.

Read: Stop Wasting Your Coffee Grounds: McDonalds, Ford are Now Working to Convert It into Organic Car Parts

Solution #1 Liquids used for the car engine

All cars have liquids that serve several purposes, in the operation of the car but need replacement periodically. Without proper disposal, they seep into the soil and contaminate it. These fluids like oil, coolant, brake fluid, ATF, and other additives get dirty and should be recycled. Sending these materials to recycling centers, will lessen their environmental impact, and save nature.

Solution#2 Car components

Do you know that some car components can be reused and repurposed instead of going to the dump? These parts are the headlamps, gearbox, starters, radiators, and engines. Most are salvaged and remade into usable surplus supplies. This makes money for businesses engage in it and the cheaper part when needed too. Technically, good spares and a whole chassis is all that is needed for a recycled car to arise.

Solution#3 Recyclable car components

Not all parts go to rot for eternity, other parts like dashboard, bumpers, car doors, and hoses with other part are re-used. Modern cars have tons of parts that are worth more than junk. This is a good source of recycled metal that is a benefit.

Solution#4 Components that are not recyclable

The last is the remains that cannot be recycled anymore, it becomes the waste residue from the salvaging of parts. It ends up in the pits that linger, but efforts are on to avoid this useless waste product.

Bottom-line:

Truly recycled and sustainable cars are not a reality, but these efforts help nature cope a bit. Adopting this stance to car ownership will pave the way for a greener future, but we have to wait, for now.

Related Article: Vehicle recycling: promoting sustainable practices in the automotive industry

See Now: OnePlus 6: How Different Will It Be From OnePlus 5?

© 2021 Auto World News, All rights reserved. Do not reproduce without permission.