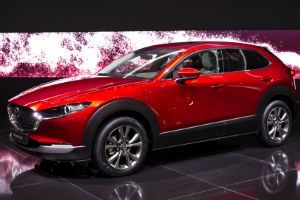 Are you ready for KODO time? Expect this crossover Mazda CX-30 with Mazda 3 DNA to lie between the subcompact CX-3 and mid-size CX-5. Mazda seems to bring the fresh out of the CX crossover series all the time.

Call it another word that is KODO-licious that encapsulates how Mazda design philosophy is second to none. All this hard word from Mazda's design department seems to pay off. Soul of Motions is a visual masterstroke that has made "KODO" distinctive in the automotive world. The long wait is done and on November 20 at 1:20 pm PST, the rest of the lineup for 2020 will be revealed in full glory.

Included is the CX-3 and CX-9 for the 2020 model year. Expect the CX-30 to have the distinctive finish that Mazda's crossover line that will be superb. The trend to SUVs or crossovers is a catalyst to design the most streamlined and elegant crossovers for the. Though, the sedan market is having a downturn which Mazda is not selling into. In fact, keeping them in the lineup. It is proven that Mazda's technology and design language is universal.

The CX-30 is derived from the Mazda 3 and still retains the visual cues. Mazda cars whether a sedan or a crossover is not what an SUV looks like. Though call it CX-30 or maybe CX-4 since it is an awesome inbetweener. Whatever it should be called and CX-30 is a fine designation for it!

KODO spirits get innovative with the CX-30 that caters to singles or beginner families. That will need an SUV for driving. Great news with All-Wheel-Drive that comes as an addon for it. Next up is the SkyActiv engines that give the CX-3 excellent performance. No need to wait long, with units made in Japan, Thailand, and Mexico. Early 2020 expect these cars to sell like hotcake.

One of the hard hitters is the SkyActiv-X engine that gotten better each refresh. Qualities like sleek lines and premium looks, and use of premium grade everything that can be crammed inside. Add a premium AWD drivetrain that gets the package just right!

With others going electric or hybrid as the next models. Mazda expresses confidence in the combustion engine technology as not a dead-ender. If gas engines are a Pandora's box then count the Sky Activ-X out. Their engineers have achieved 20-30% fuel efficiency compared to their competitors. And everyone says that the gas engine is dead should rethink it. Sky Active-X has reduced the incidence of engine knock. Better working dynamics of Mazda has improved its version of the internal combustion engine (ICE).

Sky Activ-X is the next big thing because it will use compressed ignition to start a gas engine. Another name for it is Homogenous Charge Compression Ignition (HCCI). Mazda hopes to get this tech right for future use. Nissan did not do so hot. But, Mazda has got a lot behind it.

Lifting the wraps on the Mazda CX-30 at the 2019 LA Auto Show will be the debut of another crossover. Expect nothing but the best from Mazda anytime soon!

See Now: OnePlus 6: How Different Will It Be From OnePlus 5?

© 2021 Auto World News, All rights reserved. Do not reproduce without permission.