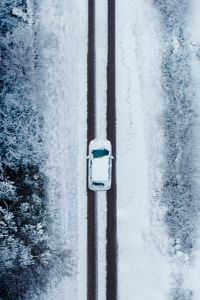 Do you know that electric vehicles have major differences from combustion engines? These play major factors in how they perform in wintertime. All key features revolutionize aspects of performance and even levels of winterizing involved.

Combustion engines need several components that keep it running. But so far, the battery system is still superior to EVs. The Achilles heel is the cooling system and fuel supply components that freeze over in the wintertime.

1. Lack of a radiator is not a problem.

Not having a radiator equipped, a preheat function is more efficient. Radiators generate heat but need a complex cooling system for it to work. Having a cooling system makes it susceptible to cold weather.

2. All Wheel Drive effects of two to four electric motors.

Getting AWD equipped is an add on trim is an extra expense for conventional cars. Electric cars come with AWD like dual motors. They distribute traction control better for front and rear axles. Without extra cost to install.

3. Less moving parts to worry about.

Built on an electric skateboard chassis with motors mounted on axles, power cell. Moving parts need lubrication that wears down components. Without moving components, it will be easier for maintenance. In winter, cold affects them severely. Though discharge is caused by turgid electrolytes can be managed.


4. The battery electrolytes freeze are the only liquids.

Combustion engines have coolants, oil, and fuel that gels up or gets turgid in winter. Electric cars have liquid electrolytes that get cold and causes discharges. Compared to the problems of coating moving parts with oil. Blockages of the fuel lines due to moisture and fuel injectors that are a problem in winter. The coolant will need heating an engine block heater. EVs have none of these fluids.

5. Starting the car and warm-up is not needed.

There is nothing more awful than warming up an engine. Depending on if the ICE is winterized. Usually, an engine block heater is installed purposely, and an exterior electric power cord is needed! But, EVs use the grid to do preheat without bleeding a full charge. Starting an EV connected to the grid will recoup power too.

6. Extensive winterizing is not a necessity.

Winterizing is not as extensive for EVs in wintertime. Owners of ICE vehicles are tasked to fully winterize the mechanical parts and systems in full. This major difference is crucial to compare both.


7. Center heavy EVs and AWD like the handling and slow driving is perfect for winter driving.

Having FWD or RWD determines if a car is prone to oversteer or understeer. Placement of the engine in front affects the balance and shifting of weight in motion. EVs with center-balance and AWD like control keeps more control than ICE vehicles.

8. The Regenerative brake system is able to recoup power for the EV.

An EVs brake system helps regain energy. Though when power goes low it is affected. Equipped with this system is more efficient than simple ABS.

These key features are excellent compared to ICE vehicles. Though dependent on a full charge in wintertime. It has fewer problems to worry about compared to conventional cars. Agree or not?

See Now: OnePlus 6: How Different Will It Be From OnePlus 5?

© 2021 Auto World News, All rights reserved. Do not reproduce without permission.