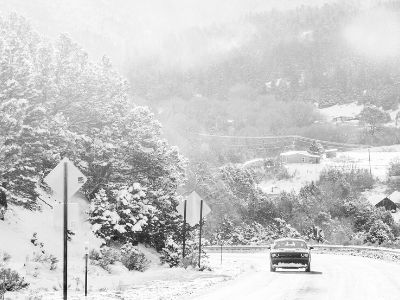 When driving in wintertime you will need these essential tips to keep safe on the road. These 9 tips are the best defense to avoid any mishap on the road. Veteran drivers should know these tips.

1. Drive with precision, do not mess around!

Every push of the throttle, use of the brakes, and the degree of steering should all be done deliberately, cautiously and smart adjustments should be made when needed. It is all about keeping the car on the road and operating smoothly.

2. Keep an eye on the road and keep your windshield clean.

What you cannot see can be fatal. Be it a fallen tree, a downed powerline, or a car on the shoulder, when visibility is at a minimum. You should be constantly scanning the road ahead to avoid obstacles and to see where other cars are and what they are doing.

3. Take note of you dash and be alarmed if the stability control or ABS flashes.

Most of the time, this part would be normal with nothing out of the ordinary. However, if it does go off, take note of what it is and adjust accordingly. Losing stability control or ABS is not good and could lead to a serious accident if the appropriate actions are not taken.

4. Look far out on the road and search for sections that may be without ice.

Winter is when black ice and other slippery surfaces are serious threats. Try to scan ahead as much as possible. Maintain slow, safe speeds and avoid driving faster than conditions allow. Keep a safe distance from other vehicles to avoid potential problems when attempting to brake on a slippery surface.

5. Get out of a skid and regain stability without accidents!

Skids will happen when wheels lose grip on the road. Never slam on the brakes, instead try to follow these techniques to regain control of your vehicle.

If the front tires lose grip, let off the throttle allow the tires to regain traction. Avoid swerving or over-steering and maintain a safe direction. When rear wheels skid, turn in the same direction not the opposite. Release the throttle and brakes and allow the tires to regain traction.

6. The proper use of ABS brakes is done this way.

This may be the most simple of all the steps. Always trust your ABS, push the pedal and keep it down, the braking system will adjust accordingly, both to slow the vehicle and to allow the operator to maintain control. Continue in a safe direction until the vehicle comes to a complete stop.

7. Feel out the traction and grip of the road while driving.

Look at the dash if traction controls or ABS that show whether poor road grip is present. Do whatever is needed to counter-measure it. Be wary when traction is low!

8. Do not take all-wheel-drive for granted.

Treat AWD like all drive trains and respect how they work. Know how to get traction back if needed. Always keep the car in straight line.

9. Winter tires offers the best grip or control.

Winter is a very dngerous time of year to be on the road, even with snow tires grip will sometimes be poor. It is best to practice extreme caution at all times, regardless of the weather conditions. The number one rule to always follow is your gut. If you don't feel 100 percent confident, or have any doubts about your ability or your vehicle, do not drive.

Follow these 9 tips to keep you safe when driving. It takes more concentration or skill to get it done properly. Remember these essential driving tips whenever out on the road in wintertime. Safe driving!

See Now: OnePlus 6: How Different Will It Be From OnePlus 5?

© 2021 Auto World News, All rights reserved. Do not reproduce without permission.