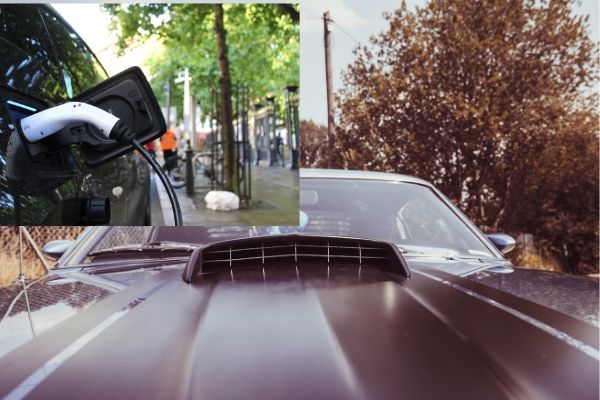 Ask this question, and the two sides of the argument will have these answers. Are electric cars or ICE cars truly the green option? We need to dig deeper into what istruly better for the environment. Time to know the real score, once and for all! We all know that this is a thorny topic that is fueled by the cult of the EV. Inadvertently, the godfather of EVs is Tesla which made electric cars a hot item.

The Toyota Prius Hybrid and a fully electric car made headway in putting Hybrids on the map! Despite all the hype to sell the next great electric car. There is a downer somewhere along the way. Whatever headway Tesla and the gang have forged ahead. The SUV and its little cousin the crossover is going strong.

Internal Combustion Engine cars have been the poster boy how cars increased greenhouse gases? Including why the weather is next to the loony-bin! Everything is the fault of the auto, which carried generations to our advances technology now. With Tesla prodding, have we seen it as a viable replacement for our automobile obsession?

Not everything is all rosy with the electric car with skeletons in its closet. Is everything clean and green with the electric car for real? To be sure, nothing comes as 100% problem-free. Unless research is done, when not everything is on the table. Digging up the facts will yield quite surprising results. Whether Mr. Tree Hugger "let us save the planet" or an SUV guy who does not really care. They will be surprised to find out!

1) Gas versus Electric car batteries, and their byproducts.

Energy cannot be created, but transformed in another form or as a byproduct. Carbon dioxide is emitted from the exhaust pipe as gas. Electric car batteries, when old and spent, are disposed of in landfills. ICE cars release gas, no need for storage.

2) Gas has carbon emissions versus dangerous cobalt metal and lithium.

ICE cars byproduct is gas that dissipates into the air. Fuel cells have solid hazardous wastes like cobalt and lithium. Carbon emissions can be remedied by filters, but solid wastes have no way to avoid poisoning the ground.

3) How sustainable is it the fuel?

Both of them have a carbon footprint and neither is zero energy to create. Refining oil gives off carbon, fossil fuel is burned to create electricity for the grid. A deuce, none wins zero-emission.

4) Can electric car batteries be disposed of easily?

The answer is no. A lack of recycling and storage of spent power packs is the problem. Soon, they will be put in landfills until they can be recycled!

Conclusion:

Whether the byproduct dissipates like carbon emissions or lingers in landfills. Both will pollute the environment, till a totally green car alternative energy comes along. Agree or not?

See Now: OnePlus 6: How Different Will It Be From OnePlus 5?

© 2021 Auto World News, All rights reserved. Do not reproduce without permission.