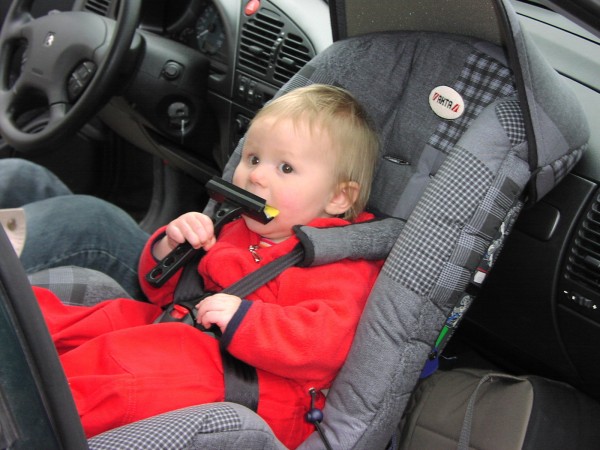 Traveling in the wintertime is touch and go when there are children inside the car! These guidelines are important winter driving tips for every parent out there. Taking the time and patience in securing children in the car seat for safety reasons. Wintertime carries some risks more than any other time. Car seats are tested to the limits because they are not designed for winter specifically!

One rule to never break is to let children wear bulky coverings anytime in the car seat. Padded fluffy clothes will hurl children out of the seat! Strict guides as proposed by the American Academy of Pediatrics (AAP) are suggested.

1. Never leave the carrier of infant seats, inside the car when unused.

Leaving it in the car will chill the frame. Take it into the house where it is room temperature. Reduced body heat loss with the child in it.

2. Leave early if you have a child traveling with you.

Plan ahead and check the weather, if a child is with you. Drive slowly and safely while on the road. But, be extra careful in winter when traveling with children. Be safe, go slow, and take extra care!

3. Children should be dressed in thin layers when inside a car.

Layer one is close-fitting items underneath. Next is pants with a warm top or jackets, sweaters. The final layer is a thick jacket (fleece) to wear. Thermals are a good way to keep them warm. An infant needs another layer to wear. Include items like hats, coats, or a blanket for the little one.

4. Keep gloves, socks, hats, and similar children's items ready if needed.

Unlike fluffy and padded items, they do not cause problems with the straps. They are safer to wear than winter jackets, with padding that is not recommended in a car seat! These small and useful items will keep baby safe.


5. Straps of the car seat harness should be tightened properly.

Check if the strap can be pinched. If it can be, pull the straps tight enough without constricting the child's breathing. Even if bundled, better double-check for safety reasons.

6. Never use anything more than the seating provides with the car seat!

Do not place anything in between the child and car seat, even bundling included. Nothing should smother or cover the child. Use poncho coats that flips over the harness's side.

7. Using anything than the accessories provided with the car seat is not safe.

Always use the accessories that came with the car seat. Using other than that is dangerous because they are not designed for that use!

8. Include an emergency bag for your child when traveling.

Have everything needed if there is an emergency on the road. All vital baby items are complete!

These driving tips for winter are crucial. Especially these rules suggested by the AAP in securing children into the car seat safety. Read and apply on the next trip out in the wintertime. Keeping children safe is important, especially on winter roads!

See Now: OnePlus 6: How Different Will It Be From OnePlus 5?

© 2021 Auto World News, All rights reserved. Do not reproduce without permission.