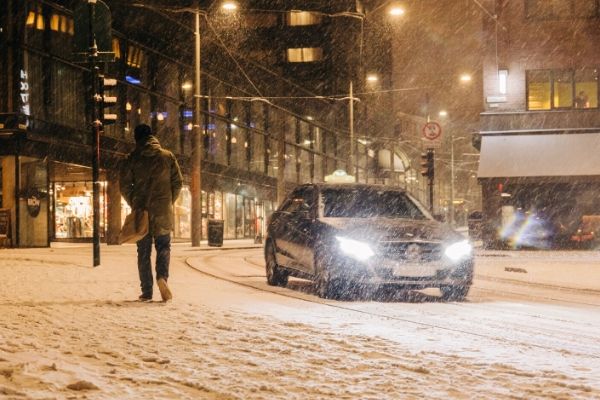 The tire grip is the reason why they handle better. If there is plus speed and negative grip, then you are in a heap of trouble! Most newbies do not know it. A car's gearbox is what transmits the power to wheels via the axles! When driving in winter, the way shifting varies from each upshift, or downshift which matters.

Whether the car is a front-wheel, rear-wheel, four-wheel, and all-wheel drive. Equipped with either manual or automatic transmission that comes in several speeds. Most cars come with automatic, even small subcompacts have it as standard. While the manual is dying out slowly and can be found in sports cars. Top sports cars require a manual or dual-clutch gearbox, but some have automatics with sport and other modes.

Driving on snow is something altogether that SUVs will go for the default AWD or 4WD. Trims come with a manual or automatic transmission combo that is a big factor in better winter handling. Gears behave differently in both transmissions, in how they shift. Another is that electronic shifting is automatic, affects the timing and efficiency of all speed changes.

Note: Engine brakes are best with a manual transmission, not automatic! Auto gearboxes can be wrecked by forcing an engine brake.

When an in manual the shifting is done depending on the skill or knowledge of the driver. But, automated or automatic transmission has a difference. Automated has sport mode with plus or minus, but automatics have a "drive" and several speeds that are preset! In a way, automated gearboxes simulate actual manual shift, unlike purely more driven automatic shifting.

When driving in snow, their characteristic matters when going up, or braking if needed! Controlled throttling in low with stepping on the brake without spinning in the snow. How to use engine brake or stepping on the brake itself. There is a lot to consider!

If you got your bets which work best, we will find out! Seasoned drivers would know the difference1.

These gearboxes have gone a long way from the simple version of it. Now, these transmissions have gotten smarter and sensors will apply the next gear shift. The use of traction control and sensors on AWD will distribute the grip needed. If the gearbox is automated with sport option, they are better to use for sporty driving. Electronics and sensors have improved it better, even new drivers find it easy to drive than "stick".

2. Manual Transmission
Experienced drivers go for manual because the shift is done manually. From high to low gears to the engagement of the clutch to time the shifting to the wheels. More control is preferred, but gear changes just at the right moment. This avoids shifting the weight and power, to have balanced handling on snow. On snow, there is the edge where cars might be spinning and turning. Balancing the clutch and power to the wheels in "synchronicity is the real skill".

Both work in winter though it might vary in some conditions. Is manual or automatic the better gearbox for winter? At the end of the day, it will depend on the driver. How about you, what's your preference?

See Now: OnePlus 6: How Different Will It Be From OnePlus 5?

© 2021 Auto World News, All rights reserved. Do not reproduce without permission.