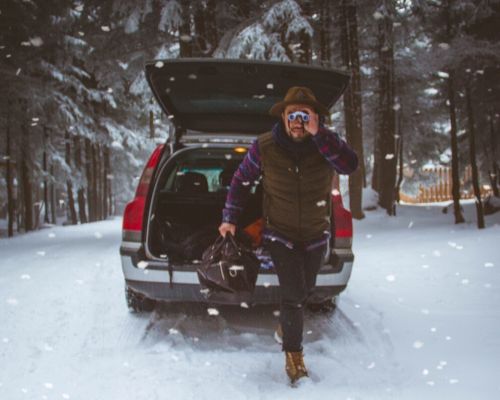 Driving during the winter season brings a lot of challenges for motorists. Aside from the freezing weather, car owners also have to deal with harsher road conditions and zero visibility. These situations call for the ultimate winter survival kit, which is guaranteed to get you through the winter season.
Assembling a winter survival kit is more complicated than it sounds, so we've round up 11 essentials for your kit. Winter driving is all about preparedness, and this winter survival kit is a must for all motorists. Don't leave your house without these essentials.
1. Keep an ice scraper and snow brush ready for use.
An ice scraper and snow brush is a must-have in your winter survival kit. Use these tools to remove snow from parts of the car. Pay special attention to the windshield and windows to remove snow, for better visibility.
2. Have a portable snow shovel in the trunk of the car.
Having a portable snow shovel in your survival winter kit will save you from a lot of troubles. Without it, digging out a snowed tire is hard and it will help clear snow around it too. Choose portable shovel so it can be folded easy.
3. Extra gloves and winter clothes to keep warm, just in case.
Snow gloves are used for the brush and shovel because cold hands are not fun. The extra clothes are worn if it is too cold when digging the car out. The winter chill can hurt bare hands and having extra clothes and gloves can help prevent frostbite.
4. Lots of warm blankets.
If stranded or snowed in, or even if you're trapped during a blizzard, blankets will keep everyone warm. The car's heater may not be enough, especially during the severe winter cold. The winter season is unpredictable, so better prepare for all worst-case scenarios.
Rendered immobile by snowstorms is dangerous whatever time of the day. In scenarios like these, calling attention is a matter of life and death, and that's when flares come in handy. Use them to make it easy to spot you anywhere you are.
6. Any material that can be used to gain traction when stuck in the snow.
Traction is a problem when wheels dig in the snow. Digging out the bottom and sides of the tire, then placing material for traction. Anything can be used as long as the wheels get a grip on the loose snow.
7. A first aid kit for minor injuries or anything else.
Minor injuries sustained in winter mishaps will require a first aid kit. First aid kit is essential until the rescue service arrives to treat the injured person. Be sure to have a basic knowledge when using these first aid kit, since your safety is on the line.
8. An extra can of windshield wiper fluid.
You will need this if the windshield frosts over. Limiting visibility when driving is very dangerous to the car's occupants, so make sure that you have an extra can of windshield wiper in your winter survival kit.
9. Have extra water and storable food in your kit
During winter, getting trapped because of bad weather is very likely. Keep water and dry foods to sustain everyone until help comes.
The chain would be for the tires as snow chains for driving. Rope and chain can be used for towing the car.
11. Jumper cables for the battery should it discharge.
These are helpful for reviving a dead battery or keep a bad one running with a jumper.

This winter, we may never know when accidents will strike. Be ready for the worst with these essential items in your winter survival kit. Keep this kit close and don't leave your house without it! After all, at the end of the day, being prepared will save you from a lot of trouble, that's why this is a winter survival kit should be in your car at all times.

See Now: OnePlus 6: How Different Will It Be From OnePlus 5?

© 2021 Auto World News, All rights reserved. Do not reproduce without permission.