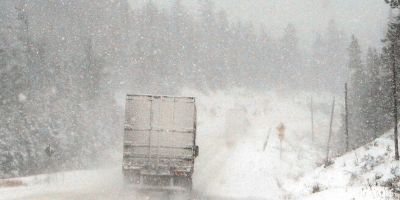 Trucks never stop rolling, even in winter. Just like cars, they have more stringent rules! Every truck will need these pointers. All the 11 safety rules for truckers in winter trucking is essential. Trucks are big and need these safety tips to get anywhere safely.

1. Trucks are big, so slow down on any winter road.

icy or snowed out roads is dangerous if a large truck is fast. Slow down and keep a steady pace because speeding up might lead to an accident.

2. Establish a significant distance all around the truck all times!

Trucks occupy a large space and need a whole more as a buffer. This secures other trucks and cars coming from mishaps.

3. Avoid moving in a group or pack on roads.

Riding in packs is normal for convoys or separate groups of trucks. In winter driving in the pack is not safe, so keep and safe pace behind the others. Going solo I better, but keep in touch!

4. If the tail-end of the truck ahead is almost kissing the front. You are too close!

The safest way to drive is not to see the butt-end of the nearest truck. Have a good buffer distance! Less you see it, the better.

5. Rule of thumb is to keep a far distance from the lead truck. If anything goes awry, you can avoid it!

Trucks travel in one straight line and tend to follow closely. Winter is unpredictable that can lead to an accident. Stay far and be able to avoid what happens to the leader.

6. Be smart and use your gut to make the right decision.

Feel that something is awry? Bad weather or anything out of the ordinary that seems off. It is better to stop and see what happens next.

7. Avoid stopping on the shoulder of the road in low visibility.

If visibility is very bad and stopping the rig at the shoulder is not very smart. Others at the back will not see well enough. If they cannot avoid it, then it will be a rear collision. Use the best judgement when shouldering the rig! Make sure all rig and trailer lights are seen if it stops.

8. Delays are delays, especially when pushing it will mean trouble.

Should a delivery run late and pacing up is needed. Think before committing the group if it will jeopardize everyone. Wait and be late, or face a worse accident!

9. Jake Brakes on icy roads is a formula for disaster.

Use it when in good weather, winter is not! Make sure all units in a convoy are all straight. Use the right brake force. Avoid or the trailer will slide or spin out behind. Always the tractor head slows, but no the trailer behind.

10. Check if all systems on the rig are all okay!

See if everything is in working condition and set to go. Setting off and all units are the same running order.

11. Fill up the trucks' diesel and top up before setting out.

Have all tanks fuel up and check if the fuel system is okay. Take time to top up, if needed.

Nothing is set in stone. These 11 Safety Rules for Truckers is the way to truck safely in winter.

See Now: OnePlus 6: How Different Will It Be From OnePlus 5?

© 2021 Auto World News, All rights reserved. Do not reproduce without permission.