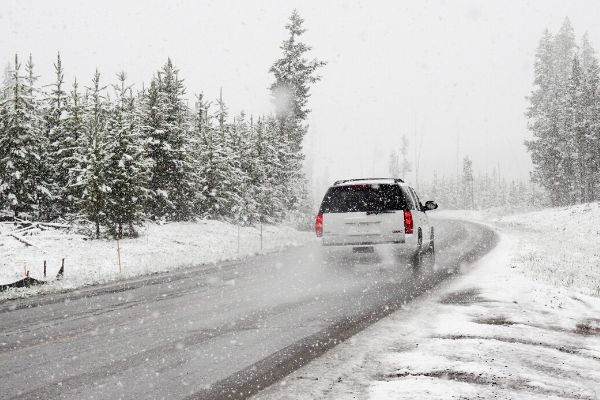 Motorists in winter seem to love their crossovers and SUVs, especially in the winter months. If anyone would be caught driving in sedan or any other vehicle type, without Four-Wheel-Drive or Rear-Wheel-Drive.

Cars getting tractions in the snow can be problematic. Problems from slush and icy roads, even black ice will take on the drive system of any vehicle. Sedans equipped with front-wheel or rear-wheel-drive behave differently on the icy ground! Whether, the oversteer or understeer gets them both will have handling problems. Distributing the drive power to the front or rear wheels cause imbalance.

Implementation of electronic stability control, ABS, EBD, and brake assist improve handling significantly. But, enter the 4WD or AWD as either full-time or part-time has improved driving in the winter. Combined with the optimized distribution of power to wheels, with better overall handling. For FWD and RWD having ABS, EBD, and BA is an improvement.

All these drive types handle winter or icy conditions differently. To be fair in comparison also comes down the tires. Traction, where it is directed by the driveshaft, is nothing. Getting a grip in the snow or slush, with tires for winter driving!

This is the big daddy of off-road gearboxes that allow SUVs and truck to go practically anywhere! If there is enough ground clearance, that is. A 4X4 transmits power and traction to all wheels with mode select. It can be high or low gear set, and sometimes it is automated. They are equipped in compact to large SUVs, which are big cars.

Very similar to 4X4 except it sends power to the wheel that needs it most. Either a full-time or part-time type, but mostly the same. Crossover have this equipped in them, unlike full SUVs! Sensors check what wheel needs the most power needed.

Most 4X4 drive trains have the edge because power is given to all wheels. Most AWDs are not behind despite the difference.

Sedans usually get their power via the front wheels and one of the inexpensive configuration for most cars. Crossovers have this installed as the default gearbox. Since the power is sent to the front axles, there are differences in handling. Drivers should know how to handle a FWD, especially in winter driving conditions.

One of the oldest and first drivetrains to be installed in vehicles. A camshaft transmits power to the rear tires. Sports cars are the best equipped with this. Some entry-level pickups have it, though not as good as 4x4 or AWD.

Conclusion
Is having a 4x4 or AWD better than FWD or RWD? What is the best pick for winter driving to obtain the best traction? There is no doubt that 4x4 and AWD are better than RWD, and FWD gearboxes. Although advanced ESC and other safeties are an improvement. Getting the best snow tires and the right gearbox is the key! Though 4X4 and AWD make a difference too. Agree?

See Now: OnePlus 6: How Different Will It Be From OnePlus 5?

© 2021 Auto World News, All rights reserved. Do not reproduce without permission.