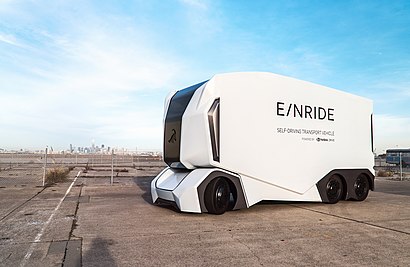 America's highways are in for a revolution. Increasing levels of autonomous driving and technologies will soon lead the way for driverless vehicles. If cars can drive themselves, so will Robo trucks, which are trucks programmed to run without a human behind the wheel. Sounds far-fetched, right?

1. What Technologies are driving this progressive trend?

Driver-assist features are already working in tandem with drivers to lessen the workload for them, helping long-haul driving manage long-distance driving better.

2. Integration of 5G into the infrastructure.

Impending application of 5G that promises faster connection speeds. It is limited as far as 4G is concerned, but for the moment it provides over the air (OTA) downloading updates.

3. Vehicle to Everything (V2X) protocol will be the connective link.

To be fully-autonomous, vehicles need to connect with their environment. The same is true for long-distance trucks with auto-drive which need to communicate with other vehicles by sharing information via short or long range devices. For example, a truck can warn others if there's trouble ahead so they can make a detour. This works well for avoiding any mishaps on the road.

4. Groups of trucks will be riding in a platoon instead of a single unit.

Robo trucks are best in platoons that run on the highway. This modified road train will continue onto the destination without the need for human drivers. These trucks are linked in an organized system, so everything is synced. Compared to convoys that are dependent on human drivers, machines are more efficient and less prone to errors.

5. Robo trucks will be more cost-effective.

Automating vehicles will keep them running 24/7 without stopping. Faster deliveries on highways and no delay mean that deliveries will arrive at their destination right on schedule. Moreover, Robo trucks do not get fatigued and are limited by maintenance.

5. Companies are experimenting with Robo trucks to carry freight.

Businesses are seeing the advantages of automated trucking that make logistic problems less bothersome. The smart truck is sure to follow with Tesla, Volvo, and others trying to cash in this trend.

6. Autonomous Robo trucks will be more efficient than diesel engines.

Most Robo trucks will run on clean electricity rather than fossil fuels. Cost-wise, ít will be cheaper in the long run compared to expensive diesel. Electric powertrains put out more hp and torque compared to non-EVs.

7. The connected car is evolving beyond something of a one-off deal. So will trucks when fully automated driving sets in.

For now, cars have this advantage, but trucks are soon to follow suit. They may share the same tech and infrastructure, but they will evolve as well based on the specs needed for its application.

With the rise of autonomous technology, driverless-vehicles are about to change the game of trucking forever. Advantages gained from adopting this tech will be beneficial, especially for the pioneers.

Human drivers are still important, but unlike machine, they are prone to error. Robo trucks might be a strange concept today, but they will revolutionize long hauls. Is it a no or a go? We'll find out soon!

See Now: OnePlus 6: How Different Will It Be From OnePlus 5?

© 2021 Auto World News, All rights reserved. Do not reproduce without permission.