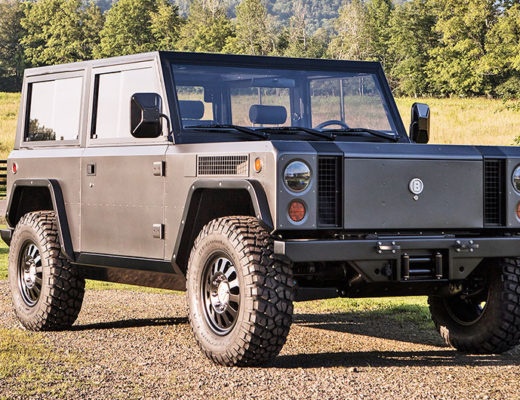 Pickup trucks are getting a thorough make-over, forget Elon Musk's answer to the green SUV alternative. The EV startup "Bollinger" took another style to Elon's cyber-punk E-Pickup. Designed as the B1 that is a four-wheel-drive (4WD), not an all-wheel-drive. All boxy and electric with shades of the old Land Rover (retro-styling) should be a contrast to modern and sleek.

Next to follow the B1 is the B2 variant which is similar to the first prototype. The B2 will have these specs and trim that will be part of the production model. Everything about the B1 and B2 will be different from what SUVs are now. Re-imaging a gas hungry SUV will be what this electric truck is all about.

Retro looks for an electric alternative

The vehicle has retro-stylings as the inspiration for it. Blocky and like a brick for a robust appearance (think classic Land Rover). The size will be between large and midsized pickup with a 139-inch wheelbase. It will be shorter than an F-150 Super Crew though longer than a Chevy Colorado Crew Cab. Overall dimensions will fall right in the middle of Chevy Colorado and F-150, but nearer to Chevy dimensions. The projected size makes it a hefty and large brick of a truck. B2's SUV chassis is made of aluminum, including the body panels that are lighter despite its size. Several components of the truck body are altered for other purposes.

Electric Drivetrain and Performance

Cruising range is rated at 200 miles that is less than the Model 3's range (250 miles +). A full charge will take 10-hours with level 2 charge, regenerative braking helps. Two electric motors supplied by a 120-kilowatt-hour battery pack installed. Better horses at 520 hp and 514 torque pounds that exceed ICE engines pulling 5000 pounds. Can reach 0-60 mph in 6.5 seconds beating an F-150 easily. With an electric 4WD drivetrain, 15-inch ground clearance, independent suspension with equipped roll bars (disconnecting) for 10-inches excess wheel travel. Two ability of 7500 pounds for this E-SUV.


Major differences from standard SUVs

The B2 has several design changes from the standard SUV chassis. Adoption of the electric skateboard chassis has made relevant changes to the typical SUV. One thing for sure is that electric motors are more silent and emit fewer carbon emissions.

a. lack of a driveshaft gives a flatter floor on the E-SUV.

b. No need for cooling for more cargo.

c. Contrary to claims that EVs have less horsepower is not true.

d. Diesel SUVs accelerate slowly compared to E-SUVs.

e. The range still an issue but updates can increase its projected range via charging grids.

f. Placement of the EV battery makes it center heavy.

What is next for the B1, B2?

The US market is big on SUVs with startups like Bollinger battery electric powered E-Pickup that will face Tesla and Rivian. Lack of airbags might be a problem compared to Tesla. SUV alternatives will be big, and the B1 and B2 will join the fray. Question is what will get the nod of the majority. Any guesses?

See Now: OnePlus 6: How Different Will It Be From OnePlus 5?

© 2021 Auto World News, All rights reserved. Do not reproduce without permission.