Think Ford Mustang, and it connotes iconic classic muscle cars that are V-6s or V-8 monsters. Ford will carry the name into the electric age and introduce this zero-emission E SUV. It will not be easy for the competition with a Raptor style styled look. Cleaner and meaner with electric motors that do not harm the environment. For Ford going electric is the way to go. On November 17 this year, the curtains go up for the "Mach E" a.k.a Ford Mustang SUV.
Mystery under the hood and performance

Speculative for now. Powered by an electric motor or several electric motors. The probable layout will be a dual motor to get an all-wheel-drive (AWD) capability. AWD is natural for an electric skate-board undercarriage. Till confirmation and keeping fingers crossed, hopefully, electric four-wheel-drive (4WD) installed.
Cruising range to keep is 300 miles (484 kilometers) on a full charge. Most EVs should have a range of 250 to 300 miles. Based WLTP (world harmonized light-duty vehicles test procedure) another range of 350 miles (595 km) for E SUV. Differences of the NEDC (New European driving cycle) to WLTP will differ though with differences. Coming soon might be a performance version of the Mustang.
An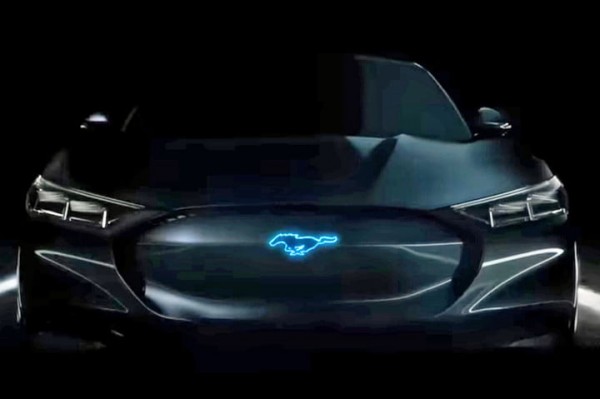 electric power mill is set for 400 hp comparable to a V-6 or V-8 SUV engine. An RWD high-performance technology from GT350/GT500/Ford GT performance and handling. The power pack might vary depending on the trim. Battery options for better range and performance. Lithium-Ion type battery is obvious with most EVs using this type.

Form factor to expect with this electric update

Expect major inspiration from the legendary Mustang muscle car in this E SUV. A version of the iconic Mustang Fastback including the triple LED taillights styled for the rear of this new age E SUV. Pure sports car in that is adapted into an SUV shaped body. Impressions that it is boxier because of the long front overhang and another overhung short car rear.

Covered parts suggest that it will be the same size as the Ford Edge midsize SUV. This will be in keeping with most SUVs in midsize chassis. Other guesses that might be correct are Lincoln Continental Style window trim and door handles that keep it streamlined and very robust looks. How is a huge spoiler that will cover the sloped roof for more aerodynamic airflow.

What is the price tag for this electric SUV Sportster

Prices might range from $50,000, whether it will be long or short-range options. Will it be a rear-wheel-drive or all-wheel-drive variant. Another speculation is it will cost $40-60,000 that is close to the Tesla Model X, but with a Model Y price range.

Final thoughts

The Ford Mustang E SUV will be a key player in the zero-emission race. Electric isn't a wuss with 400 horses that match up with a normal SUV and gives the Porsche Taycan a run for the money. This will be a cleaner, meaner Ford for a greener environment. Go fast and furious without the carbon emissions that carries on into the electric age.

See Now: OnePlus 6: How Different Will It Be From OnePlus 5?

© 2021 Auto World News, All rights reserved. Do not reproduce without permission.