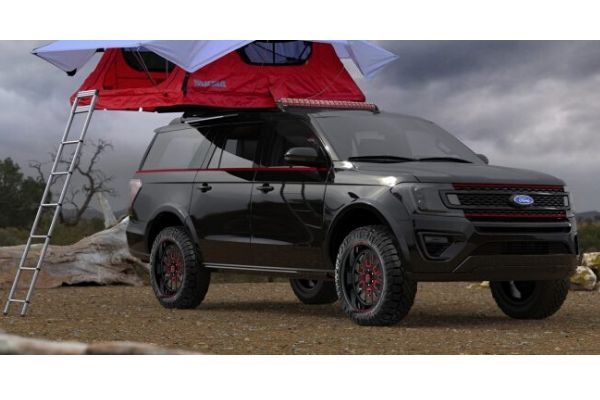 Ford Expedition SUV gets really good customizing and upgrades that will rock at SEMA. Goes to show that this Ford bestseller is no one-trick pony. Do not agree?

MAD Industries

Bad boys like this will need a Whipple performance kit, Icon Dynamics Stage 2 Coilover suspension upgrade, for the under chassis. There is more including Fuel Forged FF-45 22-inchers, carbon-ceramic brake pads, Nitto Ridge Grappler rubber, and PowerStop Z36 brake rotors for improving 4X4 handling.

Good Boy Daisy LifeStyle

All nice and spice with the Good Boy Daisy LifeStyle Expedition mod. Still equipped is a Whipple performance kit with a Borla exhaust, 24-inch rubber by Forgiato. Customs will get the sweet, with Sennheiser mics and Zoom Q8 vid cams touched up by QSC TouchMix 8 digital mixer. Screams party wagon and hitting the town on a weekend.

Next up to plate is the Ford Explorer, which gets a makeover, by several customizers for their SEMA debut. Is it another pretty face? Let's find out


Blood Type Racing

A keyword is racing and themed for sleek and fast. Underneath the kit is composed of a lift kit 0.5-inch, Ford Performance skid plate, Ace Alloy AFF09 20-inches, Toyo tires A/T II, and finally Borla cat-back exhaust for everything equipped. Striking dark chrome exterior details that include roof rack and Yakima carrier to top it off.

CGS Performance Products

Emphasis on sporty looks with Borla cat-back exhaust system, Savini wheels 24-inch capped Pirelli P-Zero tires as rubber. The paint finish is grey paint with red details on the roof and sides of the car. One look is sleek yet can take in the terrain.

Prefix

Built to be a pace car in the 2020 Trans-Am race series. Lowering the body and giving it 20-inches GWG rims, with Michelin tires for the track. Protecting the underside is a skid plate, some extras are Whelen emergency signal, and Recaro Cross Sportster ORV seat for the driver's comfort ORV seats.

Last is the compact Escape which is the smallest these SUVs. How would it stack up?


LGE-CTS Motorsports Urban Escape

Looks sharp with its 20-inch TSW Petrol P6A, with BFGoodrich Advantage T/A tires. Atop is roof racks with a Yakima mount installed. The exhaust is Borla Cat-back for added exhaust noise and performance. Nothing else is equipped.

Air Design USA Escape Sport Hybrid

Decking the Escape in a two-tone white and black paint and adding modded fenders, with silver skid plates (faux), 20-inch Forgiato Flow 001 with Pirelli tires.

LGE-CTS Motorsports Urban Escape

So far get it kitted out the best for Escape. Getting low and supported with Eibach lowering spring, roof racks, with Yakima bike cradle. Stands on 21-inch Rotiform OZR rims and Michelin Sport tires.

Expect all these Ford variants at the 2019 SEMA. From the Expedition to the Explorer and the Escape with all customizations done, demos that SUVs can be given makeovers and look good.

See Now: OnePlus 6: How Different Will It Be From OnePlus 5?

© 2021 Auto World News, All rights reserved. Do not reproduce without permission.