Hardcore motorheads will get their 4x4 SUV-fix soon. Fans of All-American Ford and other stables of American big rig trucks will be breathing in carbon emissions. Unlike others who are a tad sensitive about it do not care. For Sema 2019, Ford will bring in the show that will feature all the big-rig F-Series like there is no tomorrow. For this year's Sema that will wow fans of off-road action as the view F-Series Super duty trucks as if transformed by steroids.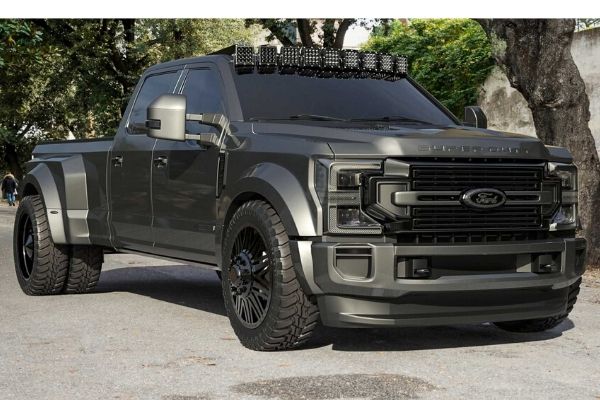 The road to Sema begins in the Chicago Auto Show that highlighted the 2020 Super Duty in all its modified off-road glory. Inspiration is the F-350 Crew Cab XLT with the humongous and powerful V-8 6.7-liter as the power mill under the hood. Getting all the hardware and improvements to the under-chassis part in BDS Suspension. Providing giant off-road rubber that measures 40-inches in diameter, with 20-inch rims to lift the truck of the ground. Jacking up the height by 4-inches is an arm lift to make it tower over shorter cars.

Now, this truck is the jack of all trades! Call it the jack of all trades with all the hardware this truck is packing. Not to miss is the hard-shell tent for the outdoors. Keep anything or everything in an aluminum toolbox to store tools and anything needed. Modding the storage will have everything an overland rig can load if it fits. Do anything and be prepared, with Ford big rig F-Series. Other extras are LED light bars and winch for emergencies.

Another take that will get second glances will be the Tremor version with black trim accents. The recipient of the modding is the F-250 Super Duty Crew Cab. Improved with eye-catching trim that isn't the end of CGS Performance Products to make it a radical piece of iron. Shoed with 20-inch rims and 37-inch rubber for a higher and tougher stance. Topping it off is the red paint, including a bed cover for a sleek look.

F-450 Super Duty Platinum Crew Cab

Meaner and bigger with an extra set of LED lights, air suspension, and 37-inch rubber with 22-inch rims for a taller stance. All the upgrade features to this rig are courtesy of Deberti Design. Trucks are built for storage, and this number does that with add-on storage everywhere it could be crammed. Rough and robust but useful for anyone who needs it.

This variant by LGE-CTS Motorsports did their version with several changes to the truck. Installing a modular flatbed, adding a rear canopy to it. Gets extra equipment including rooftop tent, roof rack, and everything needed for camping. Performance parts like a lift kit and 18-inch rims with 37-inch rubber. There's an awning to boot that is added to the upgrades.

This gets the least changes that are mostly a 2-inch lift, included 35-inch rubber for tires. Looking more Raptor and styled design graphic is an eyecatcher.

For SEMA 2019, the big-rig series that will be displayed by Ford will be nitro for the hardcore motorhead. Without a doubt, it will be an SUV heaven.

See Now: OnePlus 6: How Different Will It Be From OnePlus 5?

© 2021 Auto World News, All rights reserved. Do not reproduce without permission.