Refreshing models is done by carmakers to keep up with the competition. In the SUV arena, where competition is fierce to get your signature on the dotted line. For the 2020 GMC Acadia AT4, it has sights on improvements to upgrade it. SUVs come in all several sizes, and the Acadia is midsize. It lies between compact and large SUVs, a mid-size has substantial heft to it.
What counts as a major facelift for this SUV are the following changes. Keeping the exterior updated and filling up the interior with excellent trim, does wonders to help it sell better. These changes are the installation of updated infotainment, front and rear are redesigned, nine-speed AT drivetrain, with the push-button gear shifter. Last would be expanded storage space that would round of the goodies for it.

Another thing is that the "AT4" name connected to the Acadia, is to designate GMC SUVs that have actual 4X4 parts. This model year's 2020 GMC Acadia AT4 has legit 4X4 cred to it. All the mechanical upgrades to the suspension are all top-flight. Considering that other brands are going all out on their offerings.
A. Suspension
Underneath is a twin-clutch rear axle, all AT4 has better four-wheel traction for all-terrain. Tire size is 17-inches with all-terrain tires for better cross-country performance. Adding lifters for extra ground clearance is needed to clear obstacles on the dirt of muddy paths.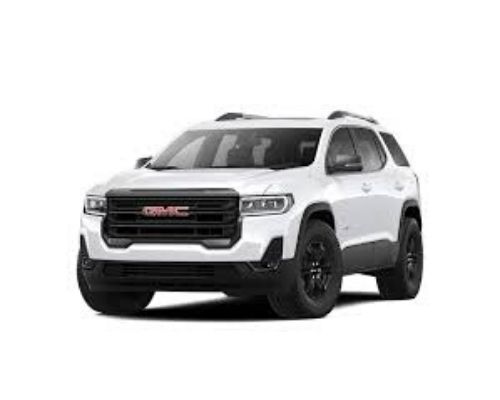 B. Handling

Overall, the AT4 handles well over most roads and paths. While running the tires have medium noise, even with the blocked treads. Balanced and smooth handling with nice brakes, even steering feels good despite it is an SUV.

C. Performance specs

Choose from a V-6 as standard with 3.6-litres that pumps out 310-horsepower which is better. Get other trims that are a turbocharged 2.0-liter inline-four, chugging out 230-horsepower. Or go for the 2.5-liter inline-four that has only 193-horsepower. All of them will get a nine-speed AT that replaced a six-speed drivetrain.

AT4 is the only one that comes with an all-wheel drive, that's optional in other trim (FWD SL base model). Picking the drive mode to go from FWD to AWD, slipping is better with Sport mode as the setting.

Problems like torque steer and wheel spin in low speeds with the FWD model. Ironically, steering is less accurate when these conditions are present.

D. Shifter needs improvement

Changing gear is unwieldy with the way it is positioned. Trying to change drive modes need getting used to. The bottom-line line is that leaving it on drive and go will make it easier. Add the transmission that is left to be desired.

E. Nicely packaged interior trim

Interior-wise it has more than enough room in the cabin. Two-row seats will fit five comfortably with extra room with it folded down to carry cargo. Other option is a three-row or second-row captain chairs as alternatives.

Wrap up: 2020 GMC Acadia AT4

Bring the 2020 GMC Acadia AT4 will cost $43,395 AT4, all-in. This refreshed SUV has made improvements where it counts. It has some issues, but it is up to the buyer to decide.

See Now: OnePlus 6: How Different Will It Be From OnePlus 5?

© 2021 Auto World News, All rights reserved. Do not reproduce without permission.