Introduced in the 2019 Tokyo Motor Show that is rife with electric and hybrid cars that carmakers want to cash in on. Among all these cars that are vying to be the next "big thing of the auto world" which is a big deal. The car to watch out for is the "2021 Toyota Mirai Fuel-Cell Sedan" that is offering an alternative to electric cars. One of the highlights of the second generation Mirai sedan is the rear-wheel-drive (RWD) configuration. Equipped with a fuel electric cell that is poised to take a stab at Tesla, as another bonafide "Tesla Killer".
It has to line up though, but the Mirai is more than ready to be the next disruption in the automotive world. Designed to be greener than electric because the car has water as a by-product. It actually has a lesser or no carbon footprint compared to electric cars. For the 2019 Tokyo Motor Show, Toyota wants the 2021 Toyota Mirai Fuel-Cell Sedan to make a splash and convert buyers to the idea of a hydrogen-powered car. This concept is more on looking like a sports sedan rather than a conservative electric car.
Installed as a power source is a hydrogen fuel-cell battery that is radically different from the Prius. The range is important for more distance travelled per full charge. Overall travelling distance is less than the target range of 400 miles that is more than the model 3. Reaching 400 miles is even far more than the Porsche Taycan. The improved range is an indication that hydrogen car batteries are promising. Better yet is that Toyota will improve it further for better performance.
Adoption of hydrogen fuel-cells will signal an alternative fuel, compared to electricity. Imagine using hydrogen that is very available to use, compare to burning oil to produce electricity. No need to wait for a long time till a full charge, just five-minutes and a full charge are reached.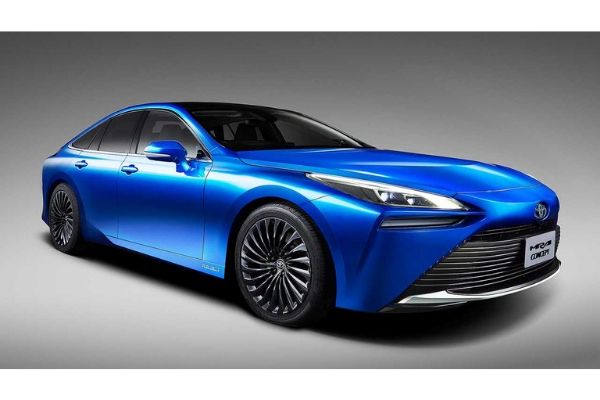 Despite cheaper hydrogen fuel, there will some expense to building and other costs that will be expensive a bit. Buying a new Mirai will be a bit costly, but cheap fuel will offset the initial SRP of $58,500. For a sedan, it is expensive but getting an RWD will have more traction with front-wheel drive.

Hydrogen fuel cells are improved greatly and how much hydrogen is can be stored in one battery pack is increased. I Improved range is achieved with a 30-per cent increase that reaches 400 to 405 miles range. It is cleaner, efficient and with farther ranges, with the expectation of getting better. Some carmakers like Toyota are willing to bank on hydrogen as a serious competitor.

Could this be the next Tesla killer with sharp looks and with better zero emissions? The only byproduct is pure water that is far better than an EV. There is no doubt that in 2019 Tokyo Motor Show it will raise some serious attention. Certainly, the 2021 Toyota Mirai Fuel-Cell Sedan will be another stepping stone to achieving zero-emissions.

See Now: OnePlus 6: How Different Will It Be From OnePlus 5?

© 2021 Auto World News, All rights reserved. Do not reproduce without permission.