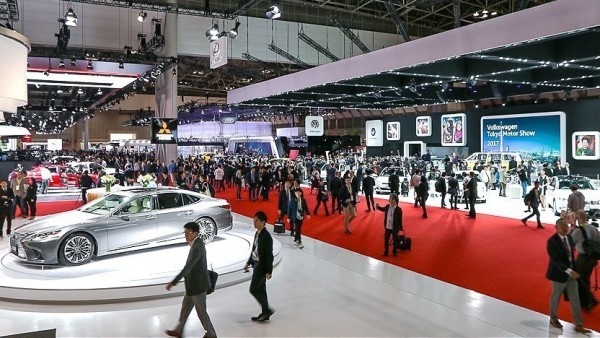 Notions of mobility are in a heady flux with all the disruptive technology and trends turning the automotive world upside down. At the Tokyo Motor Show 2019, this year the word innovative and trends will converge on the edge as concept cars take the stage. Open future is the working concept that will tie in everything about vehicle mobility, self-driving cars and system, finally cars that will fly.

The theme aptly describes how agoraphobic this new wide expanse of technologies. All at once, the future is a mix of everything, winner takes all. It is small startups against the giants.

A. NEC flying car

Flying cars have been the staple of futurists who envision skyways above city skylines. NEC or "near-future type flying vehicle' is one of the most radical car concepts that has already flown. Flying cars represent a new dimension of mobility that is a government-sponsored project to help develop ways to reduce traffic. This flying machine can drive itself without intervention.

Drone technology seems to be the inspiration for its creation. This flying car which needs more work and development might see it in Tokyo's skyline and other places.

Another of these concept cars is a Lunar rover that will never be in any dealership. Manned Pressurized Rover is conceptualized to be used in outer space missions. It was built by the Japan Aerospace Exploration Agency (JAXA), with the collaboration of Toyota motors. Powering the rover will be Toyota fuel cell technology that will test alternatives other than electric power on the moon. By 2029 the launch date including full operation ability by that time.

C. Toyota LQ

One of the most striking concept cars, because of the unique function it has. If Dr Phil is a car, then it would exactly be this one. Of course, this can self-drive and is an electric hatch. Everything about it is to begin human and machine or machine calming down a very emotional occupant or driver. Not in the mood to choose a song? It will do that for you and de-stress at the same time.

Forget about full-sized electric cars that are too mundane. A two-seater with a 100-kilometer range. Reaching a top speed of 60 km/h that is reasonable enough for a small conveyance. Small and convenient without taking road space and adding to traffic.

Designed from a disruptive trend that seems to be what lies ahead. Designed to be roomier and unlike cars today. This is a mobile conference room that is accessed by touchscreens. All this is done as with fully autonomous driving system that takes over driving the vehicle. Panasonic is betting on cars like it by 2030.

All these Innovative and future-forward concept cars on parade will show the future in the Tokyo Motor Show 2019. Whether it is accepted, or not the future will be barging in. Nothing can stop it. Are we ready for it?

See Now: OnePlus 6: How Different Will It Be From OnePlus 5?

© 2021 Auto World News, All rights reserved. Do not reproduce without permission.