Picking the best off-road SUVs is not easy, and when Toyota has four of them, it won't be easy. Their lineup of the best TRD PRO options will be confusing. These SUVs were tested on several kinds of trails to get a feel for their performance.
1. Extreme trails that are full of obstacles, which only the Tacoma and 4Runner was able to tackle.
2. Medium trails that weren't as difficult as extreme trails. The Tundra and Sequoia were made for these kinds of trails.
3. Hard enough to tackle trails that are semi-steep and some snaking sections on the trail. Most of the TRD range can handle it.
4. Not really an off-road path but a dirt track, with barely any hills or rough terrain. All four TRD PRO SUVs were able to handle it.
All the SUVs in the TRD PRO line up were put through their paces in several kinds of trails to distinguish what is the best overall option.
Top Pick: Toyota 4Runner
It had the best performance on all the jagged boulders and steeper inclines that were effortless. In comparison, the Tacoma was labored on the same trail. With better features and a whopping 9.6-inch ground clearance helped it clear obstacles. Included are modern driver aids and safeties that work well on an off road-platform.
Second Pick: Toyota Tacoma TRD Pro
The Tacoma's bigger 3.5-liter V6 power mill, with 278 hp is better than the 270 hp of the 4Runner. Getting down with Tacoma's 265 torque seems not enough. Having difficulty with the throttle control is not cool, because it should be handled nicely. The 6-speed automatic is nice on the trail and road, moving from a complete stop is easy and smooth. Having trail control features help it manage rough ground. It tails the 4Runner in this rundown.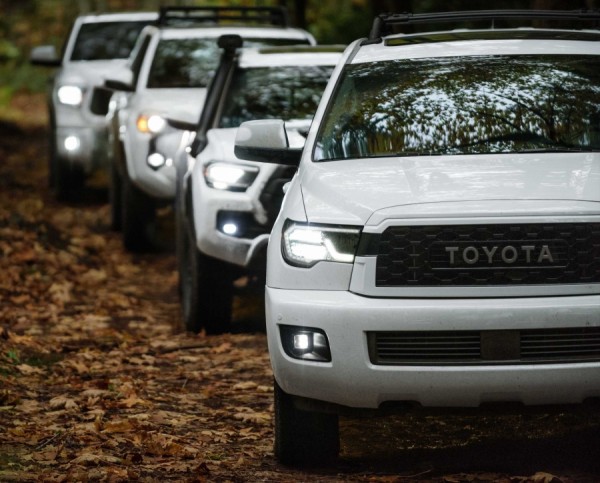 Third Stringer: Toyota Tundra TRD Pro

The Tundra share components with the Sequoia and is better at trails. An approach angle of 31 degrees keeps the chin from hitting the ground. Giving it a good clearance all trains that it would run on. With a height of 10.6-inches with that taller than 10 inches. With a longer length, they have difficulty in corners. A bigger engine is installed, but some features are missing from it.

Fourth place: Toyota Sequoia TRD Pro

One of the biggest trucks in the line and has two key features missing. Like, crawl control and Multi-terrain select that when on a rough road. Handling road trails with dirt and obstacles is easily done. Even if the 4Runner is higher on the list. This truck is still a good option compared to non-TRD PRO choices.

All the best TRD Toyota PRO package options will be an excellent choice, but it depends on what works. These TRD PR 4x4 Toyota package options will have pros and cons though it will depend on what's the preference. Just remember that the best SUV can tackle any terrain, with the decision, will be made. Whether for the hardcore off-roader or just for everyday driving. Doesn't really matter because these vehicles can tackle any terrain if needed.

See Now: OnePlus 6: How Different Will It Be From OnePlus 5?

© 2021 Auto World News, All rights reserved. Do not reproduce without permission.