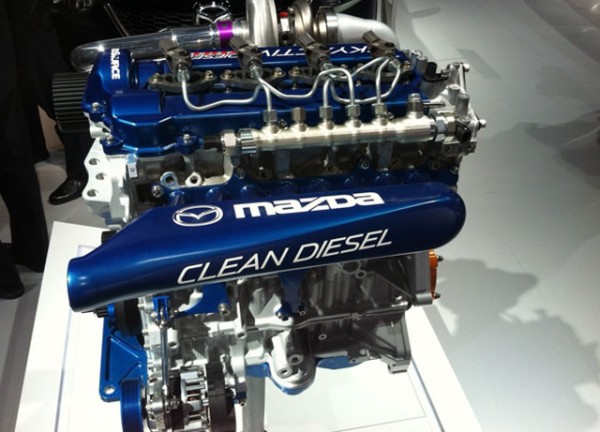 Cars would be in for quite a startling revelation. Headlines often scream about electric vehicles, but rare is it that something about diesel engines come up. Most of the references about diesel powertrains and noxious emissions that contribute to the massive carbon footprint.

Retrofitting SUVs and crossovers, possibly other cars are combo electric and ICE engines (electric and hybrids) that are squeezing into the gap. Lessening popularity of diesel in western countries connected with carbon emissions has a niche for cleaner and better diesel engines. This is if the feat is possible to achieve. Moving in is the Japanese carmaker Mazda that has made progress in engineering a better diesel power mill.

The electric car race has left a few players in the diesel engine niche. With many joining the electric bandwagon race. Only Mazda is sticking it out and showing the way to creating a better diesel engine is not only doable. This strategy will gain fruit in 2020 when many car companies are putting their eggs in one basket.

Selling in the US market to Mazda, especially if they want to hit it big with their proprietary diesel technology. Combustion engines aren't dead and there's still much life to improving the diesel engine.

With so few players willing to stick it out in keeping diesel in the running, is golden opportunity to make headway. Mazda's knack for innovation has made it apparent in its line of sedans and crossovers in the US and other markets.

Models like the 2.2-litre SkyActiv-D twin-turbo diesel has it equipped in the CX-5 crossover. This variant is the up-spec Signature version of the 2.2-litre SkyActiv-D that costs more. It might be pricier, but this variant with SkyActiv-D is one excellent crossover. With the improved diesel engine coming 2020 that will be a significant upgrad

.Sticking to its guns with developing a better grade diesel engine should pan out. Though not official in the electric car race, which is inevitable. Under wraps is their electric powertrain in development and will be on show during the 2019 Tokyo Motor Show. Though it will have the official launch before that.

Just this year, it gained much approval from the introduction of the Mazda SkyActiv-X engine that is different from previews engines. The inner workings of the engine work by combining the standard spark ignition system of gas-powered engines (internal combustion engines). An innovative element is the compression-ignition design of a standard diesel power mill.

This design that combines both gasoline, with diesel engine elements that spits out 177-horses under the hood with 165 (newton-meters. Reasonable enough for a compact crossover however getting 44 miles-per-gallon in Euro standard is good. The Mazda SkyActiv-X engine is one for efficiency. Notwithstanding the unknown specs of the improved SkyActiv-D twin-turbo diesel that will further push the envelope of diesel performance. The diesel power train isn't dead, and the Mazda updated diesel will be some to see in 2020.

See Now: OnePlus 6: How Different Will It Be From OnePlus 5?

© 2021 Auto World News, All rights reserved. Do not reproduce without permission.