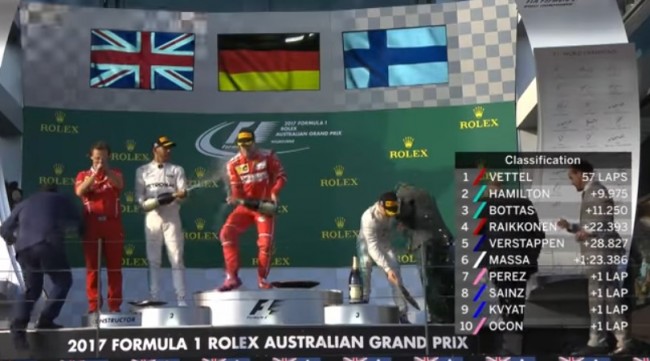 Ferrari's Sebastian Vettel was recently victorious at the Australian GP. He believes that Mercedes will be the favorites for Shanghai.

(Photo : FORMULA 1/YouTube)

Ferrari's Sebastian Vettel was recently victorious at the Australian GP. He believes that Mercedes will be the favorites for Shanghai.

According to a report by Daily Mail, the 29-year-old German racer stated in an interview that Mercedes will be the favorite for the Chinese Grand Prix this month. Previously, Vettel was victorious at the Formula 1 season-opening round in Australia last month.

Two weeks ago, the German racer bested F1 racers Lewis Hamilton and Valtteri Bottas by a decent margin in Melbourne. While Hamilton appeared to have the edge, Ferrari was able to power through and emerge victoriously.

Vettel's win in Australia was Ferrari's first in almost two years. Their last win was in September 2015, while their last first season-opening victory was in 2010 in Bahrain.

In a report by Formula 1, there was a Q & A in Shanghai where Vettel was asked how his team felt about his win. Vettel responded that all of his team members were extremely happy with the results in Melbourne, most especially him. It was able to trigger everyone's desire to keep winning and to work even harder. In addition, they are staying humble because they know it was only one win and no guarantee for subsequent wins. However, they were able to get one and it was important to them.

Sebastian Vettel was also asked if he was still hungry for more. He responded that they are all hungry. It was one win and it "tasted wonderful" and surely, they all want more. In addition, he beamed with pride knowing that the whole of Italy was very proud of his team and him. He believes that "it's the famous Ferrari feel!"

The 29-year-old racer was also asked what was different this season. Very humbly, he responded that they only have one race under their belt this season - they need to stay grounded. He did notice that the internal structure and communication has been better and this was able to translate to smoother flow of processes. This was eventually able to translate into a better car. He also mentioned this bit of insight: "There is a saying: it takes more than one swallow to make a summer!"

Vettel was also asked how he felt about 'Gina' after the win. Gina is the name he gave the 2017 Ferrari F1 car. He believed that it is now faster, no question about that. Apart from being fast, they have a different pace like never before. They are pushing really hard for the win this year.

About Shanghai, the Ferrari driver said that their engine power is better so they don't need to hide. But Mercedes does have a strong package so they need to look out for them. However, they think that their faster speed really made a difference.

In addition, Vettel also commented that this year, the driver plays a bigger role. The driver fights to win even in a bad car and they do make a significance. In particular, he stated, "Thinking is not the worst advice nowadays!"

Sebastian Vettel is a strong competitor but he still stays humble. Ferrari had a terrible season last year, but it had a positive impact on their team. It was visible in Melbourne and hopefully, it continues for the rest of the season. Who do you think will emerge victorious in Shanghai? Share your thoughts and comments below!


See Now: OnePlus 6: How Different Will It Be From OnePlus 5?

© 2021 Auto World News, All rights reserved. Do not reproduce without permission.